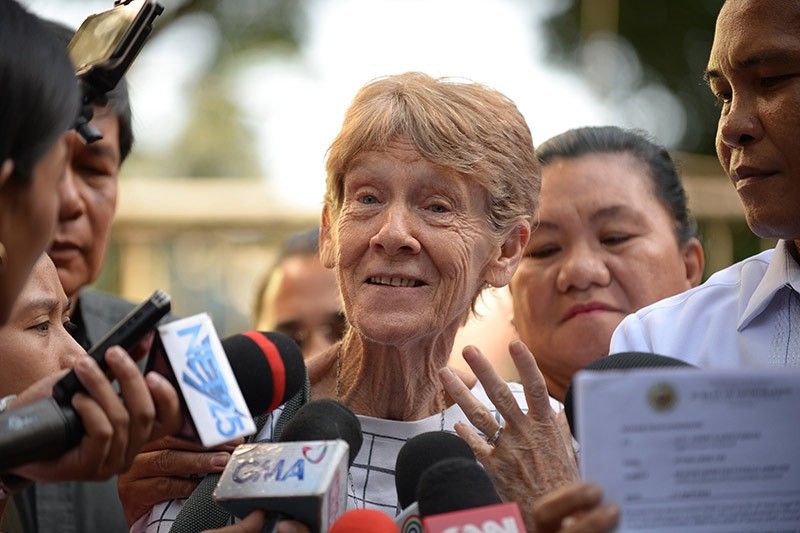 Australian Catholic nun Sister Patricia Fox speaks the press during her release from detention at the Immigration headquarters in Manila on April 17, 2018, a day after she was arrested. Philippine authorities detained an elderly Australian Catholic nun overnight in what civil rights groups alleged on April 17 was a crackdown on foreign critics of President Rodrigo Duterte's human rights record.
Ted Aljibe/AFP
Immigration orders Australian nun Patricia Fox to leave Philippines
(Philstar.com) - April 25, 2018 - 7:54am
MANILA, Philippines — The Bureau of Immigration has forfeited the missionary visa of Australian nun Sister Patricia Fox and ordered her to leave the country.
Immigration Commissioner Jaime Morente said Fox lost the privilege of holding a missionary visa under Sec. 9 (g) of the Philippine Immigration Act of 1940 after the bureau's board of commissioners found that she engaged in partisan political activities. The nun's alien certificate of registration is also deactivated.
"She was found to have engaged in activities that are not allowed under the terms and conditions of her visa," Morente said.
He said Fox's visa granted her only the privilege to engage in missionary work and not in political activities.
The bureau did not elaborate what activities these are.
Fox is ordered to leave the Philippines within 30 days from receipt of the order.
The bureau, however, said that Fox's deportation case is still pending before the Immigration's special prosecutor as she has yet to file her counter-affidavit.
"It is only after the parties have been heard, will the case be submitted to the Board of Commissioners for their deliberation on whether or not she will be deported and barred from entering the country in the future," Immigration spokesperson Antonette Bucasas-Mangrobang said in a statement.
The 71-year-old nun and advocate of land reform and peasant rights was detained at the Immigration office last April 16 after allegations of violating a local order barring foreign participation in political assemblies. She was released on April 17.
READ: CHR: Detention of Australian nun may discourage humanitarian work
Malacañang earlier said the detention might have been a mistake and apologies were in order.
A day after Fox's release, President Rodrigo Duterte blasted the Australian nun for her supposed vocal criticism of the government and admitted that it was him who ordered Immigration officials to investigate her. But he said he did not direct them to arrest the elderly nun.
Fox's missionary visa which was due to expire on September 5 this year.
The bureau said that if Fox wishes to enter the Philippines again, she could do so as a tourist.
European Socialists official Giacomo Filibeck was also detained and barred from entering the country last April 15 by immigration officials also for engaging in political activities in the country.
Critics slammed the detention of Fox and Filibeck and warned of an emerging crackdown against foreign activists in the country.
READ: Critics ask: If Duterte has nothing to hide, why the crackdown on foreign activists?
— Mikas Matsuzawa