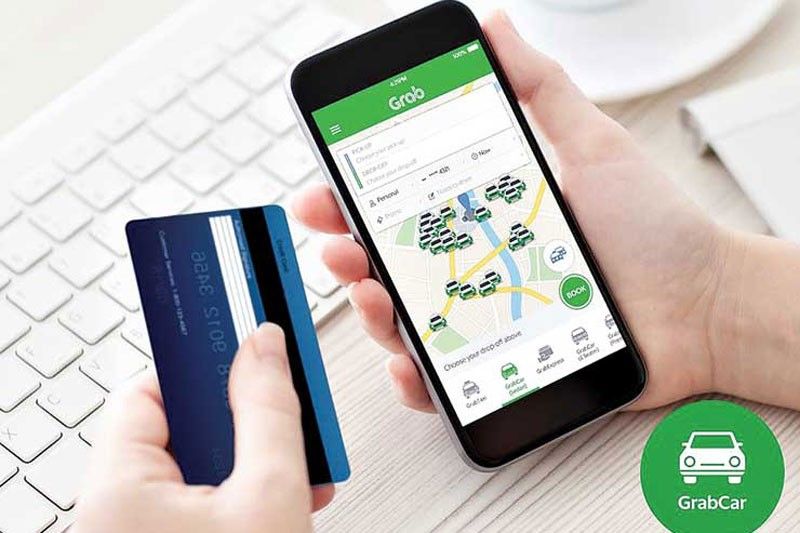 Rep. Jericho Nograles of Puwersa ng Bayaning Atleta party-list on Monday warned that he would press the non-bailable charges after he discovered the alleged illegal collection of travel fees by Grab.
File
Grab faces syndicated estafa charge over P3.2-billion fees
MANILA, Philippines — Ride-hailing company Grab Philippines may face charges of syndicated or large-scale estafa should it fail to refund the P3.2 billion it collected from customers for imposing a P2 per minute travel fee.
Rep. Jericho Nograles of Puwersa ng Bayaning Atleta party-list on Monday warned that he would press the non-bailable charges after he discovered the alleged illegal collection of travel fees by Grab.
"The Land Transportation Franchising and Regulatory Board (LTFRB) should demand this immediate refund – and in cash – from Grab or I will be compelled to file syndicated or large-scale estafa against Grab," he said.
In a related development, Grab drivers will no longer see passengers' destinations before they accept bookings starting this Friday.
The move to mask passengers' destinations is meant to address the numerous complaints regarding rampant booking cancellations by its drivers.
"We hear what our riders want and we will continue to improve our services while making bookings more efficient for our drivers. We will implement non-showing of passenger information before ride acceptance as it has become a major source of complaints," Grab Philippines country head Brian Cu said in a statement issued yesterday.
He said the destination masking would initially be rolled out to 25 percent of drivers with low acceptance rate.
The LTFRB welcomed Grab's move to hide passengers' destination from its drivers prior to booking acceptance, board member Aileen Lizada told The STAR yesterday.
She expects the move to decrease the number of complaints regarding booking cancellations, wherein drivers choose the routes they want to accept.
Lizada lauded Grab for initiating reforms on its system, rather than wait for an order from the LTRB.
4th TNC application Ok'd
Also yesterday, the LTFRB approved the application of Ipara Technologies and Solutions Inc. (ITSI) as another transport network company (TNC).
Lizada said the ITSI owns the ride-sharing app OWTO.
OWTO's accreditation will be valid for two years or until April 2020 based on the certificate of accreditation signed by LTFRB chairman Martin Delgra III and board members Lizada and Ronaldo Corpus.
It is the fourth TNC to be accredited by LTFRB after Go Lag Inc., Hype Transport Systems Inc. and HirNa Mobility Solutions Inc.
The four TNCs will compete with Grab, which acquired the operations of Uber Systems Inc. in Southeast Asia.
Protection option
To protect themselves, drivers will have the option to see their passengers' destination when traveling at night.
Aside from not showing passengers' destination, Grab will also implement an auto-accept feature to allocate rides automatically to drivers, so acceptance of passengers' requests is continuous.
"We want to improve our services hence our decision to sanction 500 errant drivers over the weekend, the non-showing of destination and the auto-accept feature," Cu said, adding the auto-accept driver app will be fully rolled out.
Passengers will be required to provide correct and complete account information.
They will also be allowed to link their account to social media platforms.
"We will never compromise safety and we'll always put the welfare of our drivers and passengers first. We thank our drivers for understanding the masking of destination feature. We hope that our passengers will do their part and verify their accounts for safety and proper identity," Cu said.
Citing the fewer number of drivers on the road these days, he said service is not optimal.
Cu vowed that Grab would work hard to keep more drivers on the road and to meet riders' demand as well as prevent extended waiting time of customers and price surges.
Nograles said the LTFRB should not just have suspended Grab's collection of P2 per minute fee, but should have issued a cease-and-desist order like what it did to Grab's former competitor and now partner Uber.
He said he based the P3.24 billion on Grab's claim that it had 2.5 million rides per week or approximately 54 million rides since June 2017.
At a very "conservative rate," he said Grab is approximately raking in about P400 million a month, which represents the 20 percent commission of the total P2 billion gross monthly revenue it is receiving. A large part of the amount goes to the drivers.
"The P2-billion estimate is based on a P200 fare per trip, which is a 'very conservative' estimate," Nograles said.
Meanwhile, Camarines Sur Rep. LRay Villafuerte disclosed the mounting complaints of Grab riders regarding booking cancellations by the drivers of the transport network.
Villafuerte said that riders are complaining about the removal from the Grab app of a link that enables them to contact the company's support service through email.
The link enables riders to express their complaints against erring Grab drivers, especially those who cancel bookings without notice.
The lawmaker said several clients complained that they were made to wait for a long time only to discover later that the drivers had cancelled their bookings. – With Louella Desiderio, Robertzon Ramirez, Emmanuel Tupas