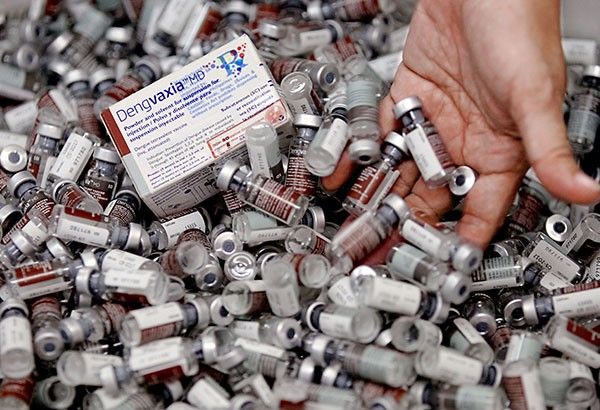 Sen. Paolo Benigno Aquino IV on Monday defended former President Aquino against accusations that the former leader is criminally liable for the Dengvaxia controversy.
Philstar.com/Krizjohn Rosales, File
Bam: Ex-President Aquino couldn't have foreseen Dengvaxia's unintended effects
MANILA, Philippines — An ally and cousin of former President Benigno Aquino III on Monday defended him against allegations that he and his former officials are liable for the Dengvaxia vaccine, the potential ill effects of which he could not have foreseen.
Sen. Paolo Benigno Aquino IV said he did not sign a Senate panel report prepared by Sen. Richard Gordon pinning liability on Aquino, former Health Secretary Janette Garin, Budget Secretary Florencio Abad and Philippine Children's Medical Center executive director Julius Lecciones in the health scare prompted by Dengvaxia, the anti-dengue vaccine developed by French drug-maker Sanofi.
Senator Aquino said that Gordon's report had failed to shed light on the harm that the anti-dengue shot caused to almost 800,000 people inoculated with the vaccine.
"We are all wondering how he (Aquino) became the primary conspirator if at the time the transaction was being finalized, news about the vaccine had not yet emerged," Aquino said in a media briefing at the Senate.
"I think I've already said that former President Aquino is not a psychic," he said.
He also noted that different government offices had differing positions on the effects of the anti-dengue vaccine.
Senator Aquino, popularly known as "Bam," is the latest senator to defend the former president from accusations that he is liable for the controversy.
Gordon accused Aquino, Garin, Abad and Lecciones of violation of the Anti-Graft and Corrupt Practices Act.
He said that these officials should be prosecuted for endangering the lives of thousands of children by inoculating them with a shot that Sanofi announced in November 2017 could result in a more severe form of infection for those who had not previously been ill with dengue.
Just after Gordon released his report, Sen. Panfilo Lacson, who served under Aquino as rehabilitation chief of areas devastated by Super Typhoon Yolanda (Haiyan), said that the former president was incapable of graft and corruption.
Sen. Sherwin Gatchalian also said that Aquino, although responsible for actions done by his government, could not be held criminally liable for the multibillion vaccination program. Gatchalian, however, signed the Gordon draft report.
Senate Minority Leader Franklin Drilon, also of the Liberal Party, said that Gordon's report did not find scientific evidence to support the conclusion that the reported deaths of children were due to the anti-vaccine program.
Gordon's report did not find former Health Secretary Paulyn Ubial liable for the health scare. She was not also included in the case filed by the Public Attorney's Office against Health Secretary Francisco Duque III.
According to Drilon, 280,000 children were vaccinated during the time of Aquino and Garin, who instituted a school-based program.
However, Ubial expanded the program under President Rodrigo Duterte to a community-based program, which resulted in the inoculation of more than 400,000 individuals.
Duque has described the case against him as "malicious and oppressive" and said that he would seek Duterte's advice on it.