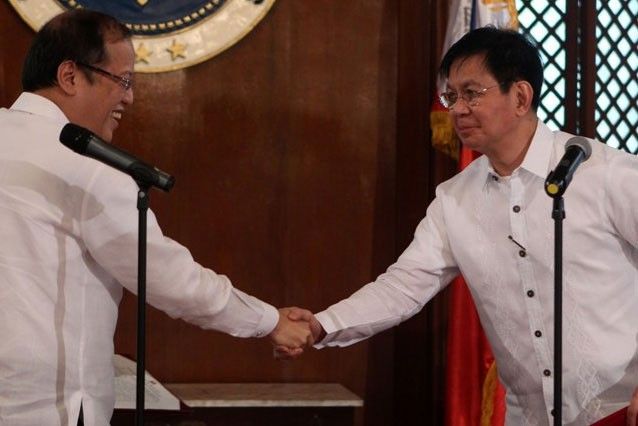 Sen. Panfilo Lacson, who was appointed to an executive post by former President Benigno Aquino III, said that the former leader was incapable of committing graft and corruption.
File
Lacson comes to Aquino's defense: Former leader incapable of graft
MANILA, Philippines — Sen. Panfilo Lacson on Wednesday said that it is difficult to believe that former President Benigno Aquino III was capable of committing graft, hours after a Senate panel report damned the former leader for the mess created by an anti-dengue vaccine program started during his administration.
According to the draft report of the Senate blue ribbon panel chaired by Sen. Richard Gordon, Aquino was guilty of "malfeasance, misfeasance and nonfeasance" in the mass vaccination of Dengvaxia among children in several regions where dengue cases were on the rise.
In a strongly-worded report, Gordon accused the former leader of simply not caring as many parents were losing sleep over worries on the health of their children given dengue shots.
Gordon also raised ethical questions over the meeting Aquino had with vice presidents of Sanofi Pasteur, the French pharmaceutical firm that manufactures the anti-vaccine shot.
Lacson, who worked with Aquino at the Senate and later at the presidential palace, came to the former president's defense in a social media post.
"Having worked closely with ex-Pnoy (Aquino) both in the Senate and Malacañang, it is difficult for me to believe that he was capable of committing graft and corruption," he said on Twitter.
Aquino appointed Lacson to take charge of the rehabilitation of areas devastated by Super Typhoon Yolanda (Haiyan) in 2013.
The former leader also ordered a reinvestigation of the charges filed against Lacson after a witness said that the Arroyo administration forced him to implicate the former national police chief in the death of publicist Salvador Dacer and driver Emmanuel Corbito in 2000.
Lacson clarified though that he has yet to read the draft as it was still not the final version that would be sent to members of the panel.
"What I'm invoking is my personal belief based on personal experiences about the former president having worked with him both in the Senate and in the executive," he said.
Abigail Valte, a spokesperson for the former president, said that Aquino will answer whatever additional complaints would be filed over the anti-dengue vaccine.
Thousands of Filipino parents became worried last year when Sanofi announced that its vaccine, though effective in shielding patients with history of dengue, could cause a more severe form of the disease for those who had not yet contracted it.
This has led to several congressional inquiries in both the Senate and the House where Aquino testified to defend the controversial program.