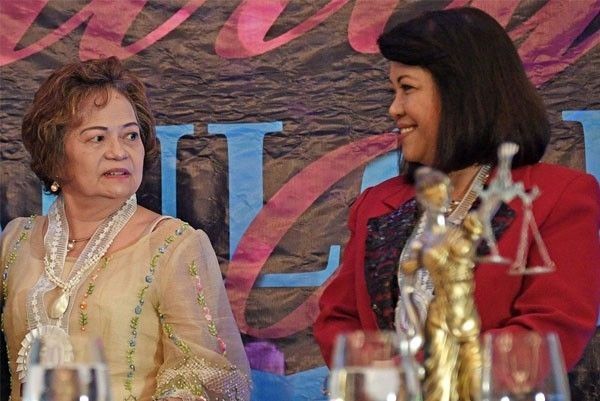 Chief Justice Maria Lourdes Sereno (right) stands next to Associate Justice Teresita de Castro during the annual convention of the Philippine Women Judges Association in Manila on March 8, 2018.
AFP
Sereno, De Castro clash at ouster hearing
BAGUIO CITY, Philippines — Tensions rose Tuesday when Associate Justice Teresita De Castro interpellated Chief Justice Maria Lourdes Sereno, who sits as the respondent in the petition for quo warranto filed by Solicitor General Jose Calida.
Immediately after Sereno was sworn to "testify under oath," De Castro asked the chief justice if she can vow that she "religiously" filed her Statement of Assets, Liabilities and Net Worth.
But Sereno barrelled through and said that before she replies to De Castro's question, she would like to ask her colleagues if they are also willing to "testify under oath" should a quo warranto petition grounded on their filed SALNs be brought up.
De Castro, whose voice rose, cut Sereno: "You are being asked a question. You are not supposed to..."
Sereno said that she felt the need to ask them the question.
Acting Chief Justice Antonio Carpio interjected and said: "Will chief justice answer the question please."
But the parrying between the two justices did not end there.
De Castro raised that she has commented on Sereno's motion for inhibition regarding statements that the latter has cited in her appeal filed last week.
De Castro stressed that she vehemently denies allegations and conversations mentioned by Sereno in her motion. She said that she would prove Sereno's claims were wrong.
Sereno's motion for inhibition against De Castro was denied "due to lack of merit." Carpio said that the justices would release their respective resolutions to explain their refusal to inhibit.
This is not the first time that Sereno and De Castro had a heated exchange of words.
READ: Sereno, De Castro face off at judges' gathering
On Monday, Sereno in a public speech revealed that De Castro told her: "I will never forgive you for accepting the chief justiceship."
The interpellation of De Castro continues at the oral arguments on Calida's petition.