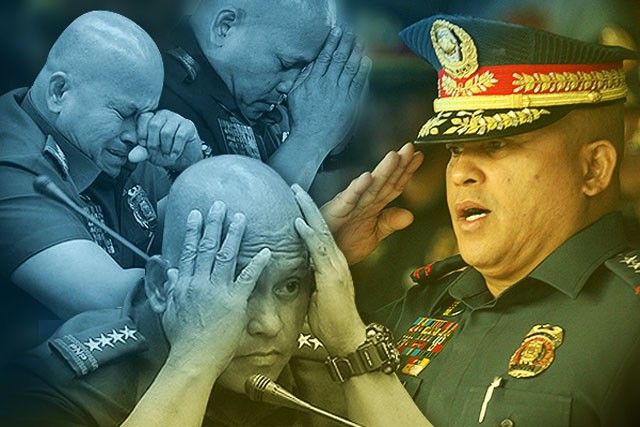 PNP chief Ronald Dela Rosa is set to retire from police service on Thursday, April 19. He will be replaced by Metro Manila's top cop, Chief Supt. Oscar Albayalde.
File
Biggest controversies that troubled the PNP under Dela Rosa
MANILA, Philippines — Director General Ronald "Bato" Dela Rosa repeatedly likened his nearly two-year stint as the Philippine National Police chief to a roller coaster ride.
The only difference, he said, was that his term as the country's top cop had more ups than downs.
But the claim of the most jovial PNP chief in recent history seems to run in contrast to the controversies that have marred the institution he leads.
The agency has been heavily criticized for being on the forefront of the government's bloody campaign against illegal narcotics, which has killed thousands of individuals, mostly urban slum dwellers.
President Rodrigo Duterte, who worked closely with Dela Rosa when he was Davao City Police chief, handpicked him to lead the 180,000-strong police force.
Dela Rosa has faced several ouster calls before for his supposed incompetence to head the PNP and he even tendered his own resignation.
But the chief executive, who has always said that Dela Rosa continues to enjoy his trust and confidence, rejected these calls and even extended the police chief's term twice.
READ: Bato: Criticism part of being in public service
Dela Rosa is set to retire from police service on Thursday, April 19. He will be replaced by Metro Manila's top cop, Chief Superintendent Oscar Albayalde.
Here is a rundown of the controversial events that hounded the Dela Rosa-led PNP:
Espinosa slay
Albuera, Leyte Mayor Rolando Espinosa, a suspected drug lord, was killed in an apparent rubout inside his detention cell on Nov. 5, 2016. His cellmate Raul Yap, was also shot dead.
Senators said that the killing of Espinosa was "premeditated," citing the irregularities from securing of a search warrant to the procedures taken in the actual operation at the Leyte provincial jail in Baybay.
Dela Rosa first shed tears in a Senate hearing when he was asked what he plans to do to restore the public's trust in the police after Espinosa was killed at the hands of cops.
"Pinapasa-Diyos ko na lang itong sa PNP. Gustong-gusto kong ma-reform ang PNP. Ako'y hirap na hirap na," an emotional Dela Rosa said.
The cops who were involved in the killing of Espinosa, including Supt. Marvin Marcos, were reinstated. He was being given a new command as the chief of the Criminal Investigation and Detection Group in Region 12.
'Tokhang for ransom'
Dela Rosa considered the kidnap-slay of Korean businessman Jee Ick-joo as the point in his police career when he hit rock bottom.
Jee was abducted from his home in Angeles City on October 18, 2016. He was then brought to the Camp Crame, the PNP national headquarters, where he was strangled to death by drug squad officers.
But Jee's case was only exposed in January 2017.
House Speaker Pantaleon Alvarez once called for Dela Rosa's ouster to save his superior, the president, from further embarrassment following the killing of Jee.
The event prompted dela Rosa to tender his resignation, saying he did not want to burden the president anymore but Duterte refused to let him go.
It also led the chief executive to remove the power from the police to go after drug suspects. But after a month, he again tapped the PNP, claiming that the drug problems continued.
READ: Bato cites killing of Jee Ick-joo, drug war probes as lowest points in his stint as PNP chief
Secret cell
The Commission on Human Rights on April 27, 2017, exposed a secret jail cell in Manila Police Station 1.
Twelve men and women were detained in a cell hidden behind a bookshelf, which was only five feet wide and with no ventilation except for an exhaust fan.
Dela Rosa defended the cops, saying he had no problem with the set-up as long as the policemen were not corrupt and abusive.
He also slammed the CHR, challenging the commission to conduct inspection every day, not only during the conduct of the Association of Southeast Asian Nations Summit.
In response, CHR chief Chito Gascon said that the police chief seemed ignorant of both the Constitution and the law by justifying the existence of hidden cells as a measure to address jail congestion.
READ: CHR, PNP face-off looms over 'hidden cell'
Kian delos Santos case
PNP was at the center of public outrage after the killing of the 17-year-old school boy Kian Loyd Delos Santos at the hands of Caloocan City cops.
Witnesses have testified that they saw police officers dragging the defenseless boy accused of being a drug peddler along the Tullahan River and shooting him there dead.
Autopsy reports showed that Delos Santos was shot twice in the head while he was kneeling, face down.
Three policemen are detained as they stand trial for murder and planting of evidence charges for the slay of Delos Santos.
While he admitted that there was an "overkill" in the police operation that led to the death of the teenager, Dela Rosa was quoted as saying in a television interview that he was not buying the claim that Delos Santos was innocent.
The killings of Delos Santos, along with minors Carl Angelo Arnaiz and Reynaldo "Kulot" De Guzman, prompted Duterte to bar policemen from joining anti-drug operations for the second time.
But two months after stripping PNP the lead role in the drug war, the president brought back the police force in his brutal campaign.
READ: PNP back in drug war; PDEA still lead agency
Deaths of two more minors
Two days after the death of Delos Santos, Arnaiz and De Guzman went missing on the night of August 17 last year.
The body of the 19-year-old Arnaiz was found 11 days later at a funeral home in Caloocan City. He reportedly robbed a taxi driver and fired back at responding cops, prompting the authorities to shoot him.
The body of his companion, the 14-year-old De Guzman, was found floating on a creek in Gapan, Nueva Ecija.
Two Caloocan cops have been charged with murders of Arnaiz and De Guzman.
In a Senate hearing, Dela Rosa broke down anew, taking offense at Sen. Risa Hontiveros' remark about an alleged "state policy" for police to kill drug personalities.
"I'm grieving for the majority of my men who are... tapos i-accuse na polisiya na gano'n. Masakit. Magpakamatay kami para sa inyo, para sa tao. Napakahirap na sabihin na policy ng malawakang pagpatay," he said.
He also offered to resign if such a state policy is proven to exist.
Botched Mandaluyong police operation
PNP ended 2017 with another blunder after a team of Mandaluyong City police mistakenly shot at a wrong vehicle, leaving two people dead and two others wounded.
Village watchmen thought that passengers were armed and involved in an earlier altercation on December 28. The misinformation led the village watchmen and cops shooting the individuals inside the white van.
Mandaluyong City police chief Senior Supt. Moises Villaceran Jr. and 10 other policemen involved in the incident were relieved.
Dela Rosa admitted that his subordinates messed up in the police operation but maintained that there was no ill intent on their part.
"Kawawa 'yung mga pulis ko. Nagtratrabaho lang 'yan. Mabuti na 'yung mga tanga na may malinis na kalooban kaysa 'yung mga marunong pero may masamang intension na mamaril ng mga drug pusher na mga bata bata nila," he said.
READ OUR NEWSX SPECIAL: They got the wrong men