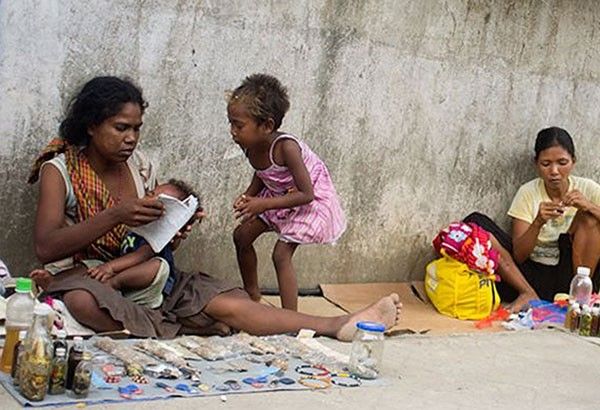 Atis of Boracay Island selling trinkets on the street.
Joseph Angan , file
'No place at the table yet' for Atis of Boracay, DENR official admits
MANILA, Philippines — The government has yet to formulate a plan to address the needs of the Ati people, who are the original inhabitants of Boracay island, an Environment official said earlier this week.
"So far I have not seen them have a place at the table, unfortunately. They should have a place at the table," Environment OIC Undersecretary Maria Paz Luna said when asked if the Atis had been consulted on the impending closure of the island.
Luna is undersecretary for Manila Bay concerns and related water concerns.
RELATED: Tourism and its many paradoxes
She said that the grant of land to the island's indigenous people is still being challenged.
Luna explained that Proclamation 1064, which reclassifies land on the island, awarded the Atis 2.1 hectares of land on the island.
She said of the 600 hectares of land on Boracay, about 300 hectares have already been titled. The titles on those are still being verified.
"There was a grant of 2.1 hectares to the IPs which is very, very tiny considering they own the whole island, previously. But they have made a very pretty village there, but they're still under threat," Luna said at the Trashing Paradise "Trashing Paradise: Philippine Coastal Tourism, Marine Pollution, and the Law" symposium held at the University of the Philippines on Tuesday.
"There are still businesses claiming their (IPs) 2.1 hectares of land, so there is a CADT (Certificate of Ancestral Domain titles)," she added.
Labor chief: IPs can help clean up Boracay
Despite the threats that the Ati community faces on its land, Labor Secretary Silvestre Bello III said they would be given work during the closure of the tourism destination. The Atis would be given 2,000 of the 5,000 slots alloted for the cleanup of the island, he said.
"Basically, their work will be in line with the cleaning of the island…The cleanup of the beach, roads, sewage system, and other jobs," Bello said in an interview with CNN Philippines last Sunday.
Rowen Aguirre, Malay executive assistant for Boracay affairs, said the Atis would also be given priority in financial aid priority once the details of the assistance is finalized.
Last Monday, former Environment Secretary Gina Lopez, an environmental advocate, reiterated her previous statement that she opposes the Boracay model because it displaces the indigenous people there. She said the Atis should benefit from the island's rehabilitation
RELATED: Ex-DENR chief Gina Lopez favors 'strong arm' Boracay closure
"I have no problem with businessmen benefiting, but when you have P56 billion going in and out there and the original settlers of the islands are somewhere in the mountain, then there's something very, very wrong with that," Lopez said in a separate interview with ANC's Headstart.