Tourism and its many paradoxes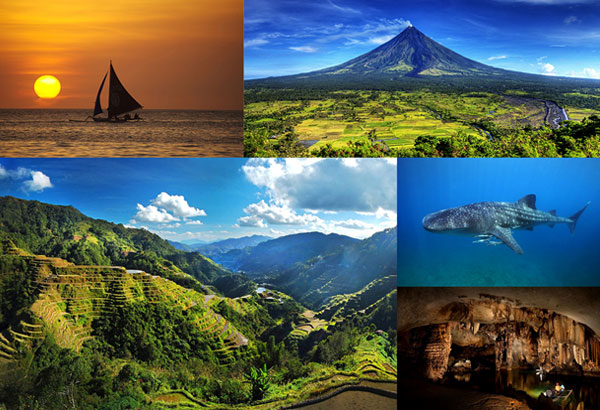 An archipelago of over 7,000 islands, the Philippines' abundant biodiversity is a main tourist attraction.
It's a long-standing dilemma: does tourism hasten or hurt development? Is it possible to balance the economic benefits brought in by hordes of visitors with the long-term needs of local residents, while protecting fragile natural resources from disappearing? What happens when we open the country up to touristic consumption? Does it create well-paying jobs while bringing in prostitution and human trafficking in its wake? Obviously, there are no easy answers.
Recently, my chief of staff made his third vacation trip to Boracay Island. He reported significant improvements compared to previous visits: transfers from Kalibo to Boracay are now integrated with flight services; 24/7 free wi-fi internet along the beach (far better than the one-hour free access in malls and at par with internet services in five-star hotels); and disaster risk reduction measures in place so the local and foreign tourists can enjoy the beach even during strong westerly "Habagat" winds.
Indeed, Philippine tourism has come a long way from 2007's "Wow Philippines" or even the current "It's More Fun in the Philippines" campaign—it has become an ubiquitous sector in the Philippine economy. In 2012 alone, it contributed 6.0% to the country's Gross Domestic Product (GDP). From 2000 to 2012, tourism's contribution was at an average of 5.9% to GDP.
The Department of Tourism (DOT) "Wow Philippines" campaign was a success: foreign visits increased from a little over 3 million in 2007 to 4.27 million by 2012. Therefore, there were concerns when the "Wow Philippines" campaign was about to be replaced by DOT's "It's More Fun in the Philippines." But the 2012 campaign went viral—setting social media platforms abuzz with humorous memes.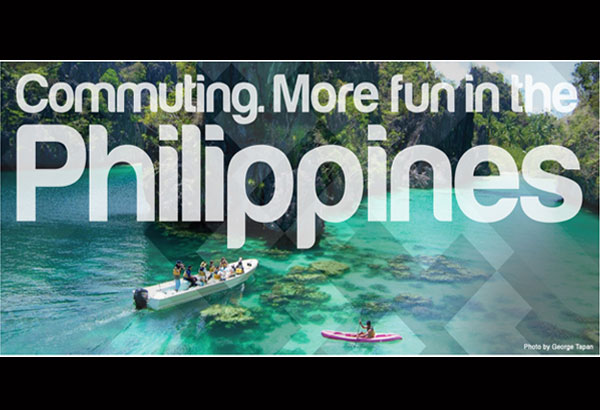 An example of DOT's "It's more fun in the Philippines" meme. DOT
During the past five years, earnings from visitor spending have continually increased. In 2014, the country attracted 4,833,368 visitors, the highest record thus far since 2007. South Korea was the top source of visitors with 1.17 million, followed by United States, Japan, China, Australia, Taiwan, and Canada.
Equally significant, domestic tourism continues to be the key driver of the industry. Helpful as the foreign exchange benefits of international tourism might be, the local tourism market is huge by comparison.
In 2012, there were 40 million local tourists—a number that jumped to 44 million in 2013. Government projects that halve the Philippine population will tour around the country by 2015, making the domestic tourism market the most stable tourism market thus far.
Another significant result is that tourism has been able to create more jobs for the locals. In 2011 alone, the tourism industry created more than four million—11.1% of the country's total employment.
Interestingly, the tourism industry has created more jobs than the mining industry. The World Travel and Tourism Council projects that total contribution of tourism to employment will rise by 2.5% in 2015 to 4,338,000 jobs, and by 2.6% annually to provide 5,613,000 jobs by 2025.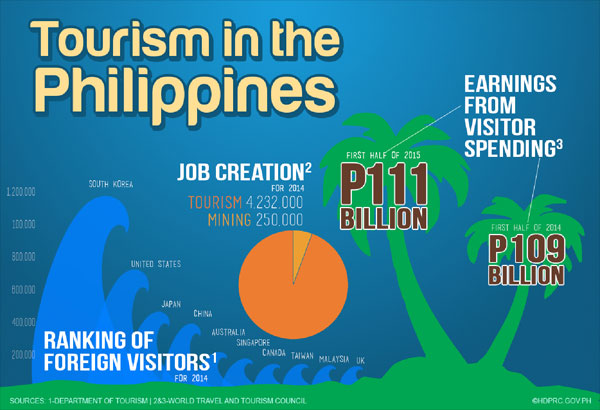 But as the tourism industry flourishes, it also gives rise to significant concerns. Even within Manila, shortsightedness can reign, with historic buildings getting demolished to make way for hotels aiming—among other things—to provide accommodation to visitors of "Historic Manila."
One of the major concerns is the adverse impact of tourism on biodiversity. Some NGOs and citizen groups contend that resort developments are often allowed, even as they further endanger the biodiversity they promote in their advertising. The environment can suffer as well. When coastal areas are converted into beach resorts, mangrove areas and corals that serve as fish sanctuaries are damaged or even completely removed. Carbon emissions and air pollution also significantly increase, as more air and land-based vehicles are needed to transport tourists from one destination to another.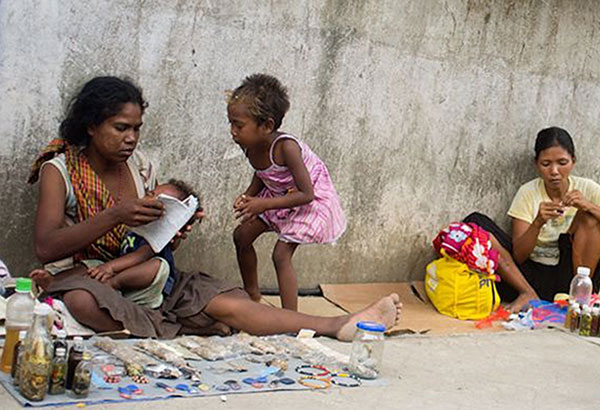 Atis of Boracay Island selling trinkets on the street. Joseph Angan
Because of infrastructure development and modernization brought about by tourism, many indigenous peoples, including the Lumads of Mindanao, have been displaced from their ancestral domain. A major case is the displacement of the Ati in Boracay Island. The Ati were among the original inhabitants of Boracay Island. They grew up getting their food from abundant seas and coastal areas. They went fishing in their dugout canoes, and gathered shells from the rocky outcrops along the beach. On land, they hunted turtles and monitor lizards, and enjoyed the sight of monkeys frolicking in forested hills.
When the Indigenous People's Rights Act became law in 1997, the Ati applied for an ancestral domain claim covering 1,000 hectares. But local politicians also staked claims on the land, and the Ati were convinced to concede their claim, asking instead to be transferred elsewhere.
Ati villagers then rejected a government proposal for resettlement to a site in the Malay mainland, preferring to remain on the island. Through the years, negotiations have whittled down their claim to about two hectares of government forest land—a mere fraction of their claim to an area their ancestors once roamed freely. This two-hectare land was awarded to them by the National Commission on Indigenous People in January 2012—but the land remains contested to this day.
Some of our well-known tourist destinations are,unfortunately, also hotspots for prostitution and human trafficking. Angeles City, Pampanga is one of the largest sex tourist destinations in the world, with over 15,000 women working in its various sex establishments (brothels, bars, and videokes). The current trade is dominated by foreign bar operators and sustained by tourists seeking inexpensive sex, sometimes even with children. In bars catering mostly to foreign men, girls are sold for a bar fine. Conditions can be brutal. Children and teenagers are lured into the industry from poor areas by promises of money and better lives, but are kept there by threats, debt bondage and the fear of poverty.
Sex tourism, especially in well-regarded beaches of Boracay, Puerto Galera, and Cebu—a darker side of tourism that persists to this day—cannot be solved by government alone. Its reduction and elimination requires a joint undertaking by government and the private sector, including tourist business operators themselves.
Another major concern is the low wages and benefits many—mostly local—tourism industry workers receive. The tourism sector is labor intensive. Its jobs range across diverse positions with varying skills and specializations. Tourism industry subsector employment includes tour operators, travel agencies, transportation, accommodation, food and beverage, and tourist site maintenance. As in many developing countries, tourism jobs in the Philippines are desired over traditional sectors like agriculture. However, many of the available jobs are low paying—groundskeepers, housekeeping, food service, mostly in the services—with managerial and other senior high-paying positions going to outsiders.
Addressing the low wages and benefits in the tourism sector, the Department of Labor and Employment (DOLE) conducts joint assessments of tourism establishments around the country to ensure compliance with general labor, occupational safety and health standards, including anti-child labor laws.
Certificates of Compliance to destinations that pass muster allow DOLE to declare them: "Labor Law-Compliant Zones." Thus far, the DOLE has presented the award to five tourist destinations—Siargao, Boracay, Guimaras, Camiguin, and Dinagat Islands. While we watch with interest DOLE's assessment of other tourist destinations, we can't help but long for some program—perhaps involving TESDA and international resort owners—to train more local residents for higher-paying, more specialized tourist industry jobs. That certainly would contribute to the country's goals of inclusive growth.
While 4.8 million foreign visits in 2014 was an achievement for us, it is still relatively few compared to our neighboring countries. In 2014, for instance, Malaysia had 25.7 million tourist arrivals, while Thailand welcomed 24.8 million. For every tourist going to the Philippines, about five others choose Malaysia or Thailand. The DOT further admits that the target of 10 million international tourist arrivals might be a long shot altogether.
Part of the problem is that visiting the Philippines is more expensive—from airfare costs to hotel rates. The disparity in hotel and resort rates as applied to foreign and domestic tourists, for instance, often seems enormous. Understandably, international hosts have a right to charge higher rates and to grant less leeway to local hosts. But an overly enthusiastic application of this principle can hurt the industry as a whole, even if it helps the bottom line of the individual hotelier.
Travel bans also hurt—China issuing bans because of the West Philippine Sea dispute; Western countries warning tourists away from the conflict-torn Southern Philippines. Foreign visitors avoiding Mindanao because of security concerns is particularly unfortunate because of the many attractive destinations in Mindanao.
The deeper problem of the tourism industry, however, is lack of infrastructure. Airports get congested and flights delayed. These are especially problems for foreign visitors with time-sensitive business meetings or tour activities. It is also a major concern for visitors with connecting flights to other countries or their home.
All this is compounded by heavy road-traffic in Metro Manila and in other highly urbanized cities. Such delays limit visitor opportunities to tour and avail of products, services, and other amenities.
The DOT—with its small annual budget of P2 billion—is limited in its capacity to improve tourism. Left with a budget not nearly as big as its competitors, it has no recourse but to be more resourceful and creative.
Tourism, then, is a double-edged sword: it has benefits and costs. To truly benefit from our tourism industry, the true costs must be addressed. In particular, environmental degradation, displacement of indigenous communities, prostitution, human trafficking, and the exploitation of tourism industry workers are issues we must address.
Assuming the cost issues have been addressed—either by new laws and regulations or by better implementation of existing ones—to sustain tourism development as a pathway to inclusive growth, the DOT needs additional budgetary support and a more powerful inter-agency voice. This will give the agency greater latitude to institute necessary reforms to help boost Philippine tourism.
At the local level, we can encourage and enhance community-based tourism activities. In Bohol, for instance, a local singing and dancing group entertains tourists as they travel and dine along Loboc River. In Lake Sebu, South Cotabato, visitors are encouraged to visit the T'boli and Blaan tribes, where they showcase their traditional weaving and dances.
Domestic tourism—a middle class phenomenon, in the end—may turn out to be the key. One of our cultural ironies is that we so uniformly complain—across the entire culture, in fact—that Filipinos have no sense of cultural identity. As we tour our own country and see its many wonders, instead of lamenting that "we Filipinos" will soon surely destroy, demolish or build a shopping mall over the wonders we possess, we can—one day soon—share those wonders with more and more people. Including residents themselves of tourist attractions--at once rare and breathtakingly beautiful.