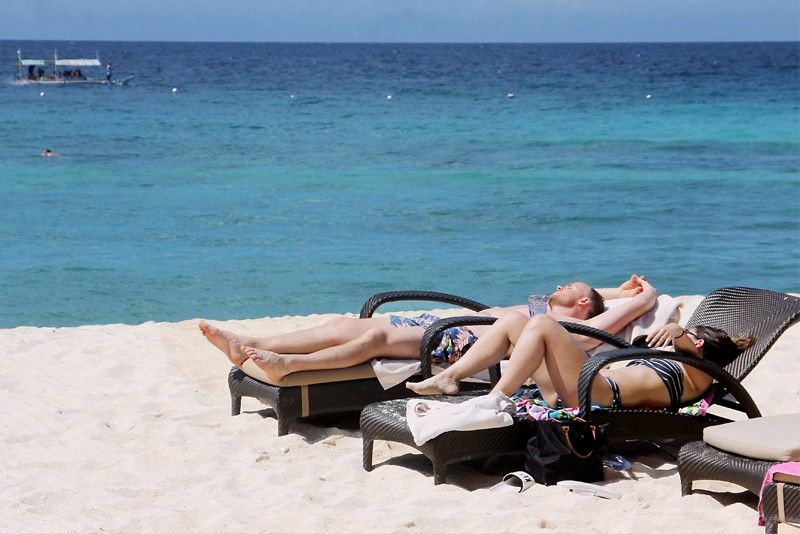 Photo taken on Jan. 16 this year shows tourists relaxing in Boracay, the country's best-known holiday island.
AFP
700,000 foreign bookings in Boracay canceled
MANILA, Philippines — Tourism stakeholders in Boracay will lose an estimated 700,000 bookings amounting to some P30 billion in earnings following Malacañang's decision to close the tourist destination for six months.
Carriers are also adjusting operations to and from Caticlan and Kalibo in Aklan by cancelling some flights due to the island's closure.
Meanwhile, San Miguel Corp. (SMC), which operates Caticlan airport, said it supports the government's initiative to rehabilitate Boracay to make it a sustainable tourist destination.
"Addressing long-standing problems with sewage and solid wastes brought about by rapid growth of tourism, commerce and unfettered development now, is critical to ensuring Boracay's long-term sustainability," SMC president and chief operating officer Ramon Ang said.
Jose Clemente III, president of the Tourism Congress of the Philippines, said they will be compelled to cancel bookings from May to October, affecting thousands of domestic and foreign travelers.
For May alone, Clemente said they already accepted since last year bookings from about 170,000 people as it is considered the peak season for Chinese and Korean nationals.
"We have to cancel the trips because they got nowhere to go," Clemente told The STAR.
As far as losses in tourism revenues are concerned, Clemente said they are seeing over P30 billion or 50 percent (covering the first six months) of the foreseen P62 billion in revenues for this year.
Clemente noted Boracay was able to earn P56 billion in 2017, and this year's revenue is expected to increase by about P6 billion after the government opened more chartered flights from China.
President Duterte approved on Wednesday night the six-month closure of Boracay as recommended by the inter-agency task force composed of the departments of tourism, environment and natural resources, and the interior and local government.
Tourism Secretary Wanda Teo said the task force presented their recommendations during the Cabinet meeting where a majority agreed to shut down Boracay starting April 26.
Teo said the entire island will be closed for rehabilitation, including business establishments that are compliant with the government's regulations to ensure that all issues will be addressed.
"Sarado lahat (All will be closed) whether compliant or not," Teo said in a radio interview.
Teo said that rehabilitation will include the easement between establishments and the shore as well as wetlands and forest lands.
Clemente said they are very disappointed because they had been hoping for the implementation of other solutions and not just the closure of the island.
Scaling down services
In a statement yesterday, flag carrier Philippine Airlines (PAL) said it would reduce flights to Caticlan and Kalibo airports for a six-month period beginning late April and expand flights to other Philippine tourist and provincial destinations to support continued growth of local tourism.
"PAL will thus operate nine weekly flights between Manila and Kalibo (PR 2969 and 2970) and seven weekly flights (PR2041/2042) between Manila and Caticlan to maintain continued links to these gateways to Boracay and Aklan province," it said.
PAL said all other Caticlan and Kalibo flights from Manila would be suspended from April 20 to Oct. 27, while flights to Caticlan from Cebu and Clark would be suspended from April 26 to Oct. 27.
"Boracay is a national treasure," PAL president Jaime Bautista said. "We fully support the government's intention to make Boracay fully safe and environmentally friendly. Sustainable development is of critical concern, and we are one with the laudable goal to revert the island to a balanced eco-tourism paradise.
"We seek the understanding of our passengers as your flag carrier and the aviation industry cooperate in this multi-sectoral endeavor. In the long-term, a safe and revitalized Boracay will benefit all stakeholders in the travel and tourism sectors, and the Filipino people as a whole," Bautista added.
With the announced closure of Boracay, Cebu Pacific said in a statement it would also be cancelling flights for the period of April 26 to Oct. 27 on the following routes: Manila-Caticlan-Manila, Cebu-Caticlan-Cebu, Caticlan-Clark-Caticlan, Manila-Kalibo-Manila, Manila-Kalibo, Kalibo-Cebu, Cebu-Kalibo-Cebu, Clark-Kalibo, Kalibo-Clark, and Kalibo-Incheon-Kalibo.
During the same period, the budget carrier will operate flights on routes such as Manila-Kalibo, Kalibo-Manila, Manila-Caticlan, Caticlan-Manila, Cebu-Caticlan and Caticlan-Cebu to cater to local residents.
Philippines AirAsia Inc. said it would also temporarily suspend some flights between Manila and Caticlan, Manila and Kalibo, Cebu and Caticlan, Kalibo and Clark, Clark and Caticlan, Kalibo and Pusan, Kalibo and Shanghai and Kalibo and Incheon from April 26 to Oct. 26.
It will, however, retain one daily flight on the following routes: Manila-Caticlan, Caticlan-Manila, Manila-Kalibo and Kalibo-Manila.
PAL and AirAsia said they will be adding flights to other domestic destinations so as not to disrupt people's holiday plans.
Carriers are also providing passengers of cancelled flights the option to either rebook, reroute or refund without penalties and charges.
Step in the right direction
Ang said the move is a step in the right direction even if "we will endure some short-term pain… in the end we are hopeful it would bring about long-term gain for all."
However, to ensure that Boracay will continue to thrive, Ang stressed that all concerned sectors, including government, businesses, developers and its residents, must look beyond the island and move to disperse tourism to nearby municipalities such as Caticlan and Nabas. – Rudy Santos
Related video: