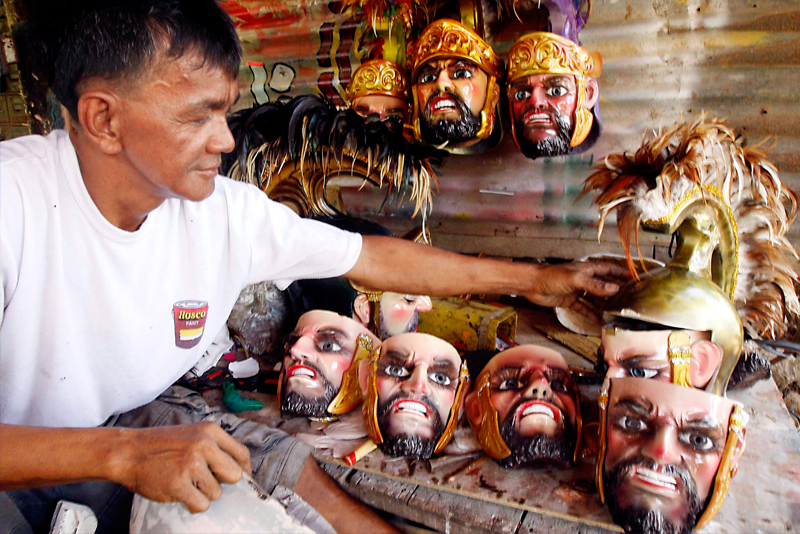 Mask maker: Narding Benaid, 52, puts finishing touches on masks depicting Roman centurions, which he sells for P3,500 each at his shop in Barangay Buyabud, Sta. Cruz, Marinduque. Benaid makes the masks in time for the annual Moriones Festival, which is a part of Holy Week rites observed on the island. Joven Cagande
Public urged to cooperate in Holy Week security preparations
MANILA, Philippines — Malacañang has asked the public to cooperate with authorities in ensuring security for the Holy Week and to be always vigilant to help prevent untoward incidents.
Presidential spokesman Harry Roque said the government is prepared for the exodus of people this week, but the public should also do its part by being aware of the surroundings.
"As we observe the Lenten season, we call on the public and the community for their support and cooperation. Public support can be manifested through everyone's cooperation in the conduct of safety checks, security checkpoints, compliance with traffic regulations and maintaining complete situational awareness of their surroundings at all times," Roque said in a statement over the weekend.
"Everyone is called upon to immediately report suspicious characters and unattended materials such as packages, bags and other objects that are out of place. With everyone's cooperation, we look forward to a solemn Holy Week," he added.
Roque said government forces have not detected any threat but would continue to undertake "appropriate measures" to ensure public safety.
"As we expect the heavy movement of people this coming Holy Week, we have been gearing up security and safety preparations. Public safety remains our top priority," the spokesman said.
"Law enforcement and security personnel have monitored no specific threat but we will not put our guard down. Appropriate security measures are in place to ensure public safety," he added.
Roque said the military and police have deployed additional personnel in various areas to safeguard places of convergence like transport terminals, churches and malls.
President Duterte is expected to spend the Holy Week and his birthday in Davao City.
A source said Duterte would quietly spend his 73rd birthday on March 28 with his family.
The President will witness the handover of loose firearms and the presentation of former Abu Sayyaf members in Sulu today.
Related video: