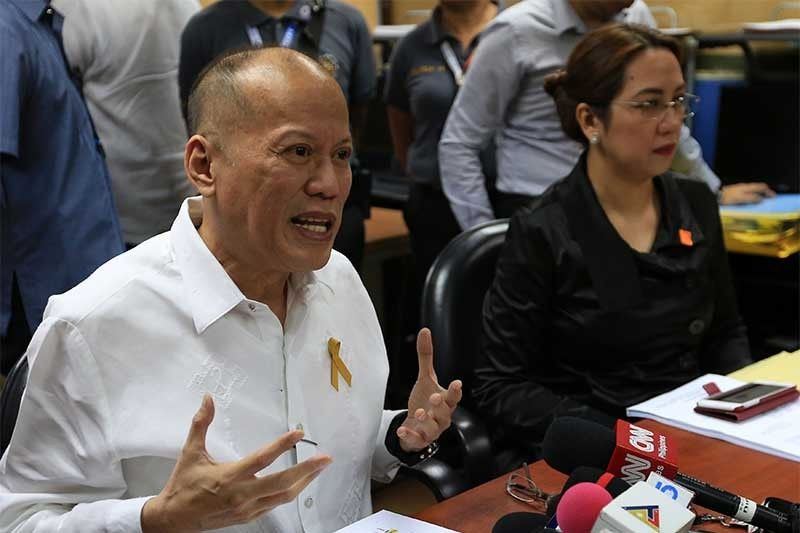 Former President Benigno Aquino III and former Health Secretary Janette Garin are facing criminal complaints in connection with the Dengvaxia mess.
STAR/Edd Gumban
DOJ subpoenas Aquino over Dengvaxia fiasco
MANILA, Philippines — The Department of Justice has issued a subpoena against former President Benigno Aquino III, former Budget Secretary Butch Abad and former Health Secretary Janette Garin over the dengue vaccine mess.
Aquino and the two former Cabinet members were ordered to attend the March 23 hearing on the Dengvaxia case filed by Volunteers Against Crime and Corruption and Vanguard of the Philippines, Inc.
"Under and by virtue of the authority vested in me by law, you are hereby directed to appear at Room 140, Mezzanine Floor, Delas Alas Hall Building, Padre Faura Street, Ermita Manila, on March 23, 2018 at 10:00 in the morning, in connection with the preliminary investigation of the above-entitled case," the subpoena read.
Last month, the VACC and the VPCI filed a criminal complaint against Aquino and 19 others for the reported deaths of children allegedly connected to the anti-dengue vaccine.
Other respondents in the case are Department of Health Undersecretaries Carol Tinio, Gerardo Bayugo, Lilibeth David and Mario Villaverde; DOH Assistant Secretaries Lyndon Lee Suy and Nestor Santiago; other DOH officials Laureano Cruz, Joyce Ducusin, Mar Wynn Bello, Leonila Gorgolon, Rio Magpantay, Ariel Valencia, and Julius Lecciones; former DOH Undersecretaries Nemesio Gako, Vicente Belizario Jr., and Kenneth Hartigan-Go; head executive assistant to Garin, Dr. Yolanda Oliveros; unnamed directors and officers or employees of Zuellig; and unnamed directors, officers or employees of Sanofi Pasteur.
Aquino was accused of authorizing the release of P3.55 billion for the procurement of the vaccine within the 45-day election ban in 2016.
Last week, Aquino clarified that the purchase order for Dengvaxia was signed on March 9, 2016, or more more than two weeks before the start of election ban on March 25, 2016.
"This complaint is based on imagination and wrong intention. It is clear that this failed the standards of the law and truth," Aquino said in a press conference last Thursday.
The president expressed his hopes that the Comelec would dismiss the complaint against him in relation to the Dengvaxia mess.
"We expect the Comelec to do the right thing, which is to dismiss the complaint as soon as possible," he said.
Related video