Contrary to Roque's remark, China structures on man-made islands grew under Duterte's nose
February 6, 2018 | 7:00am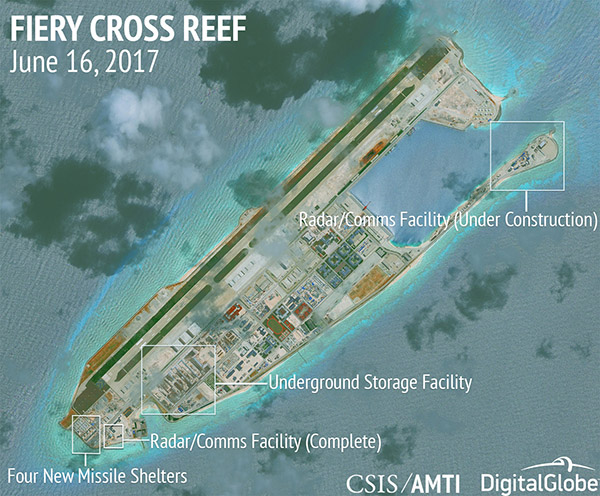 MANILA, Philippines (First published Feb.5, 9:10 p.m.) — Presidential spokesperson Harry Roque on Monday claimed that everything found on reclaimed islands in the West Philippine Sea was already there when President Rodrigo Duterte took over in 2016, but a report released late last year showed that many structures were installed during the current Philippine administration.
Roque also dismissed as not "news" any more a newspaper report on Monday showing that China's militarization of its artificial West Philippine Sea islands was nearly complete.
"But our position is everything found on these islands were already there when the president took over," Roque answered in a press briefing in the Palace when asked about installations done under the administration of Duterte.
"As I said this militarization, if you can call it militarization, did not happen during the Duterte administration alone. It's been long militarized," Roque said.
RELATED: Fiery Cross Reef transformed into Chinese airbase, says report
However, a report released by the Asia Maritime Transparency Initiative in December last year showed that China continued its construction of infrastructure necessary for fully functioning air and naval bases on its larger outposts.
AMTI said some of the structures that were built since the start of 2017, well into Duterte's first year in office, range from underground storage areas and administrative buildings to large radar and sensor arrays.
"These facilities account for about 72 acres, or 290,000 square meters, of new real estate at Fiery Cross, Subi, and Mischief Reefs in the Spratlys, and North, Tree, and Triton Islands in the Paracels," AMTI said in its December 2017 report.
AMTI said that Fiery Cross Reef saw the most construction in 2017 with work on buildings covering 27 acres or about 110,000 square meters.
This work included completion of larger hangars along the airstrip, work on large underground structures south of the island likely to house munitions or other essential materiel, a large communications/sensor array at the northeast of the island, various radar/communications facilities around the island and hardened shelters for missile platforms at the southern end, according to AMTI.
"The large underground tunnels AMTI identified earlier this year as likely being for ammunition and other storage have been completed and entirely buried," the think tank said.
READ: China defends 'peaceful construction' of defense facilities on Fiery Cross
There was also work in 2017 on what appeared to be a high-frequency radar array at the north end of the island, AMTI added.
Work on Subi Reef meanwhile covered 24 acres or 95,000 square meters, according to the think tank, and included buried storage facilities, previously identified hangars, missile shelters, communications facilities and a high frequency "elephant cage" antenna array for intelligence.
There were also new storage tunnels at Subi in 2017, according to AMTI, in addition to buried structures previously made at the north of the island.
China is also poised to "substantially" boost its radar and intelligence capabilities at Subi, according to AMTI, as since mid-2017 it has built a second "elephant cage" as well as an array of radomes on its southern end.
READ: Lorenzana: Philippines to protest China airbase on Fiery Cross Reef
On Mischief Reef, China constructed underground storage for ammunition and other materiel, hangars and missile shelters, new radar and communication arrays and new storage tunnels and started work on a new radar array in 2017, according to AMTI.
"China has continued construction, though on a smaller scale, at its bases in the Paracel Islands. The most significant of this work in 2017 was at North, Tree, and Triton Islands," it said.
Despite reports on China's continuing militarization in the disputed waters, the government has insisted that it will not go to war with China and will instead rely on its "good faith."
"If there is such militarization which China denies... The intent to use or to station military hardware has always been there even before the entry of the Duterte administration," he said.