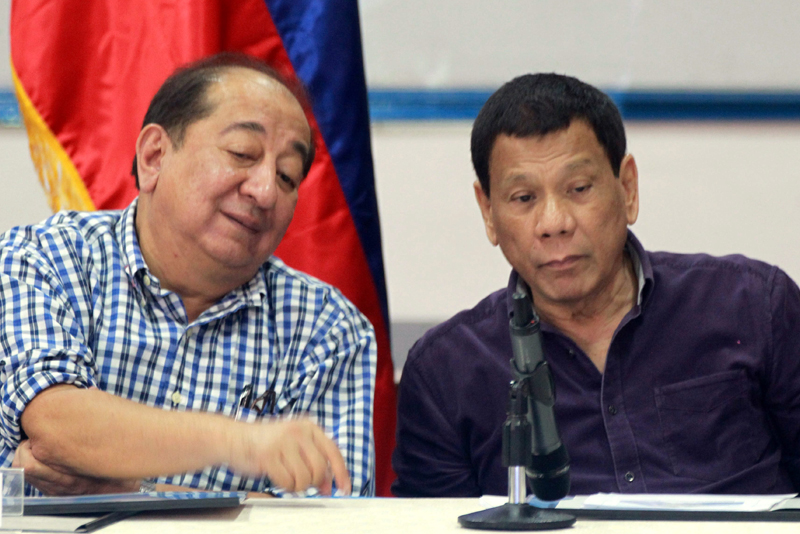 President Duterte listens to Bicol Gov. Al Francis Bichara during yesterday's briefing on Mayon Volcano's at Camp Simeon Ola in Legazpi, Albay. KJ Rosales
Rody pledges P50 M for families affected by Mayon
(The Philippine Star) - January 30, 2018 - 12:00am
MANILA, Philippines — President Duterte yesterday provided P25 million to communities affected by the explosion of Mayon Volcano and ordered agencies to ensure that all the needs of displaced residents are addressed.
Duterte said the assistance could be used to provide the food and sanitation needs of the evacuees.
"I'll give you initially today P20 million and I will augment it tomorrow by sending you about P50 (million). For the operation, everything, for pagkain (food), and I'm interested in the hygiene or sanitation of the place," the President said during a meeting with local officials in Albay.
The remaining P5 million came from the Philippine Charity Sweepstakes Office (PCSO), the agency that provides financial assistance to the poor.
The President said he wanted the PCSO assistance to be increased to P30 million.
Duterte promised to send portable toilets as he expressed concern over the conditions of people staying in evacuation centers.
"In the meantime, if there is none constructed, we have to deliver a sanitary way of disposing human waste. If there are available portable toilets in Manila, we can always send them," the President said.
Duterte also ordered agencies to conduct "intense surveillance" to prevent the spread of infectious diseases.
He asked Department of Science and Technology undersecretary and Philippine Institute of Volcanology and Seismology director Renato Solidum about the worst-case scenario.
Solidum said the worst-case scenario is a strong violent eruption which could trigger pyroclastic flows, so the danger zone had been extended to eight kilometers to ensure no human activity in that area.
Solidum showed a video of the 1984 eruption, which affected only up to seven kilometers.
Social Welfare and Development officer-in-charge Emmanuel Leyco said the department has suspended the conditions for the Pantawid Pamilyang Pilipino Program in Albay.
Meanwhile, Duterte ordered his political adviser lawyer Francis Tolentino to implement all short-term relief efforts by the end of the week.
The President directed Agriculture Secretary Manny Piñol to immediately assist displaced farmers.
Piñol told the President that the Department of Agriculture has allotted some P100 million for farmers' programs, including non-collateral, no-interest loans of P5,000 up to P20,000.
Around 10,279 farmers in Albay and neighboring provinces are suffering damage to agriculture, the National Disaster Risk Reduction and Management Council reported, reaching P189.3 million in Albay alone since Mayon started acting up.
Rice crops suffered the most damage valued at P181.3 million, followed by corn at P7.5 million and abaca at P478,000.
Mayon's activity has affected a total of 22,918 families or 89,962 persons now staying in different evacuation centers or with their relatives.
A Bicolano construction magnate reportedly offered yesterday a 41-hectare privately owned land in Legazpi City to be the site of a temporary evacuation camp for the thousands of residents and evacuees fleeing Mayon. – With Celso Amo, Michael Punongbayan, Rainier Allan Ronda