Philippines conducting Benham Rise research without China
January 25, 2018 | 12:06pm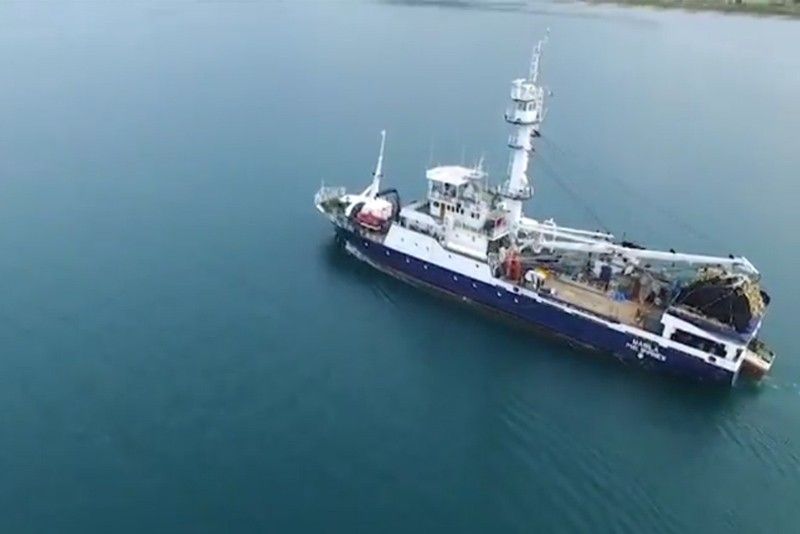 Fact-checking Malacañang's comments
MANILA, Philippines (Updated; First published Jan. 24 at 9:15 p.m.) — Filipinos have been conducting research in Benham Rise even without China's help.
On Tuesday, presidential spokesperson Harry Roque defended the approval given by the Philippine government to China to conduct maritime studies in the continental shelf off the eastern seaboard of Luzon by saying that Filipinos couldn't research there without China's help.
Roque added that it's China that had qualified so far while the requests of the other applicants had been turned down for failure to qualify "according to [the] fixed guidelines" set by the government.
"And no one can do it because, apparently, it's capital intensive," Roque said in a media briefing in the Palace.
On Thursday, Roque released another statement to try to clarify his earlier comments on the issue. He referred to another of his quotes from the same briefing.
"Earlier, I responded, and I quote, 'Because only China has qualified so far. There are other applicants, unfortunately they did not qualify according to fixed guidelines already set by the government.' It is obvious that my statement pertains to China and not the Philippines'," he said.
Not just China
In 2017, however, the United States and Japan were approved to conduct marine research on the underwater plateau, as indicated in data provided by the Department of Foreign Affairs.
In 2016, Oceana, an international organization working to protect and restore the world's oceans, joined marine scientists from the Philippine Bureau of Fisheries and Aquatic Resources and the University of the Philippines in an expedition to the Benham Rise.
The team explored the Benham Bank, the shallowest portion of the seamount, on board the government research vessel MV DA-BFAR, according to Oceana.
The international organization provided remotely operated vehicle and technical diver-videographers during the expedition to get more footage and to allow a more extensive analysis of life in Benham Bank.
Back in 2014, UP and BFAR scientists found more than 50 species of fish and a thick cover of tiered plate corals and were able to dive for 25 minutes and film at a depth of 50 meters.
With Oceana on the team, the scientists were able to document more than 200 fish species and soft and hard corals, algae and sponges.
Data from the DFA showed that the Philippines had approved requests from the US, China, Japan and South Korea for the past 18 years.
Foreign Affairs Secretary Alan Petery Cayetano said on Thursday that only two of China's 18 requests had been granted while all the requests of Japan (nine) and South Korean (four) were approved. Germany's two requests were all denied.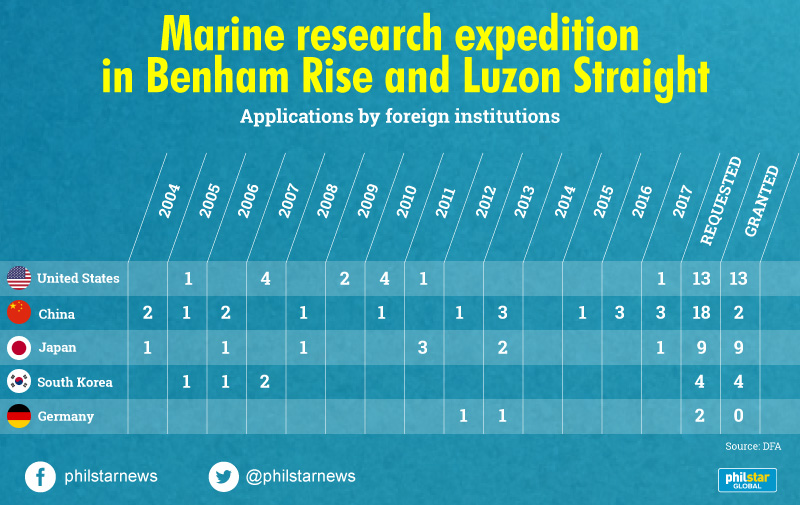 China-based organizations made more applications to conduct research in Benham Rise since 2004, but most of the requests were turned down, according to data from the DFA.
The Philippine government should also extend more support to its local marine industry to strengthen its capability to conduct research, according to a fisherfolk group.
Pamalakaya pointed out that the merchant vessels Pampano and Albacore, and the research vessel Sardinella, which were acquired by the University of the Philippines College of Fisheries, could have been used in exploring Benham Rise had they not succumbed to deterioration.
"Unfortunately, these research vessels have not been maintained to maximize marine research and development," the Pamalakaya said.
China's motive in Benham questioned
While foreign organizations have been allowed to do research in Benham Rise, most of the requests made by China since 2004 were rejected by the DFA's Maritime and Ocean Affairs Office.
Observers, however, have raised concern over the Duterte government's recent grant for China to do scientific research in the undersea area. Chinese vessel Ke Hue Hao began on Wednesday to begin its research in Benham.
Analyst Richard Heydarian from De La Salle University suggested how the growing Asian power has a geopolitical interest in the area east of the Philippines including Benham Rise.
A map that shows why hard to trust #China to do just "research" in #Benham Rise (China's "island chain" domination strategy) pic.twitter.com/77BDUWC3yc

— Richard J. Heydarian (@Richeydarian) January 25, 2018
Reports from Beijing say that it has recently installed acoustic sensors or listening devices in waters near Guam where the United States maintains a military base.
Rep. Ruffy Biazon (Muntinlupa), a senior member of the lower house's national security committee, said that dismissing China's expedition in Benham as merely for research purposes is the "height of naïveté."
Biazon said the mission may involve data gathering for China's strategic military objectives in the Western Pacific where the US has dominated for decades. — with reports from Camille Dioola