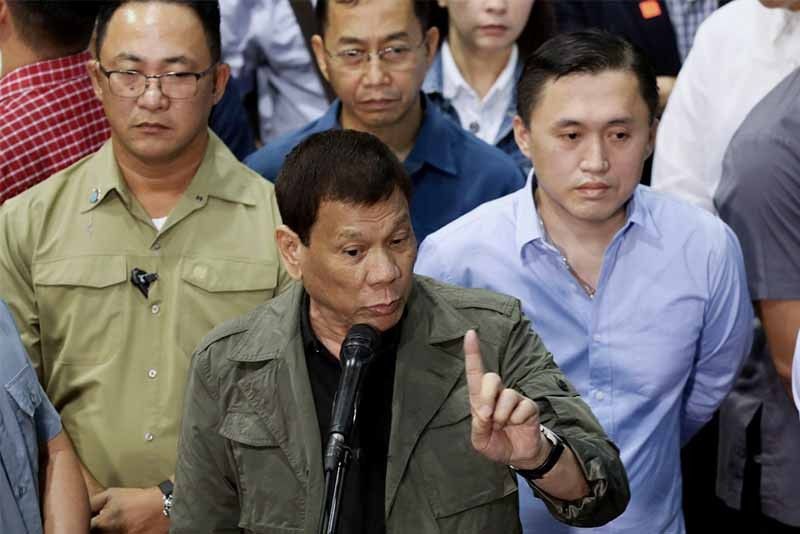 President Rodrigo Duterte, together with presidential aide Christopher "Bong" Go, is being interviewed on the sidelines of the inauguration of the new Communications, Navigation, Surveillance / Air Traffic Management Systems Development Project at the Philippine Air Traffic Management Center in Pasay City on January 16, 2018.
Simeon Celi Jr./Presidential Photo, File
WATCH: Duterte's testy exchange with Rappler at media briefing
President Rodrigo Duterte on Tuesday blasted Rappler for being a "fake news outlet" following its report on supposed interference of presidential aide Christopher "Bong" Go in a multibillion-peso Navy frigate acquisition project.
The presidential criticism came just a day after the government's corporate regulator, the Securities and Exchange Commission, canceled Rappler's registration, a move which would essentially close down the news website.
Duterte, who was incensed by the report, accused some media organizations of throwing "shit" at government despite being sinful themselves and threatened to throw into jail owners and journalists of outlets he accused of committing crimes.
During the testy media conference, the president also denied that the issue surrounding Rappler's corporate woes and accused it of writing stories "pregnant with innuendos and rife with falsity."
Local news organizations have reported Duterte's inaccurate statements since mid-2016 as he led a bloody drug war that killed thousands of drug suspects not formally charged in court.
RELATED: Duterte: 'You have to kill to make your city peaceful'
The president and his supporters have long voiced criticisms of the media, even as the administration benefited from bogus news reports circulating on social media.
This has fueled calls to keep the press independent. Protests, most recently on Friday where hundreds gathered to rail against harassment of news outlets and journalists, have been mounted. — Video report by Kat Leandicho with reports from Camille Diola