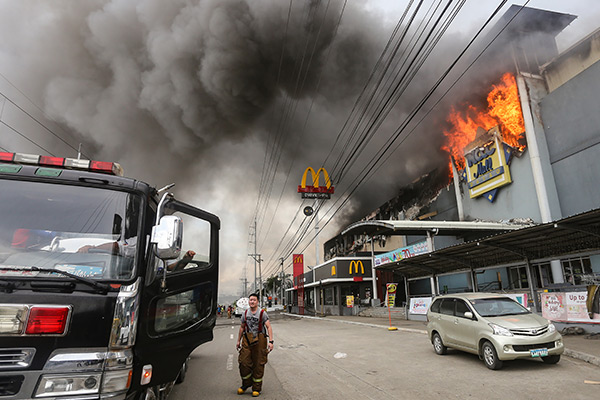 "No worker should go to work to die," Communications Workers for America said on the fire incident that killed 37 BPO workers in Davao City. Manman Dejeto/AFP
Labor group: Hold BPO, mall owners liable for deadly Davao fire
(philstar.com) - January 3, 2018 - 11:39am
MANILA, Philippines — An international labor group for call center workers called on the Philippine government to make the owners of a call center and a mall accountable for the deaths of 37 of their colleagues in a fire in Davao City in December.
In a statement, the Communications Workers of America urged "government agencies to hold Research Now SSI and New City Commercial Center, where the call center is located, responsible for any failings that may be identified in the investigation."
CWA is a 700,000-strong group of workers in the fields of telecommunications and information technology, airline, news media, broadcast and cable television, education, health care and public service, law enforcement and manufacturing.
It has members in the United States, Canada and Puerto Rico.
"The Research Now SSI tragedy is the outcome of exploitation of a workforce living in poverty, forced by economic necessity to work in conditions that led to death," CWA added.
"No worker should go to work to die," the statement further reads.
SSI is a Business Process Outsourcing company based in Connecticut.
Potential lapses
Several probes into the fire that hit the Davao mall on Christmas weekend have been launched by government agencies.
Initial investigation results noted the mall's failure to meet requirements for the enclosure of fire exits trapped the workers. Reports said the fire started at around 9:30 a.m. on the third floor of the mall, which houses flammable products like fabrics, wooden furniture and plastic ware. The reason for the December 23 blaze was not immediately known.
The authorities added that SSI's own fire alarm system was also found to be "defective" and not connected to the mall's system.
WATCH: No fire exits? Criminal probes into deadly Davao mall fire launched
Administrators of the mall earlier denied allegations of locked or nonexistent fire exits at the building. They also insisted that the fire alarm system worked during the blaze.
In the days after the fire, several labor groups called for stronger implementation of labor enforcement and safety inspections of BPO work spaces.
READ: Hero emerges in Davao city NCCC Mall blaze
The shopping mall fire came at the height of Christmas misery in Mindanao after the southern region on Friday last week was hit by a storm that unleashed floods and landslide that displaced thousands and killed many.
For his part, Labor Secretary Silvestre Bello III vowed that no employee of the fire-stricken NCCC mall will be displaced as he ordered the release of P30 million worth of assistance December 29.