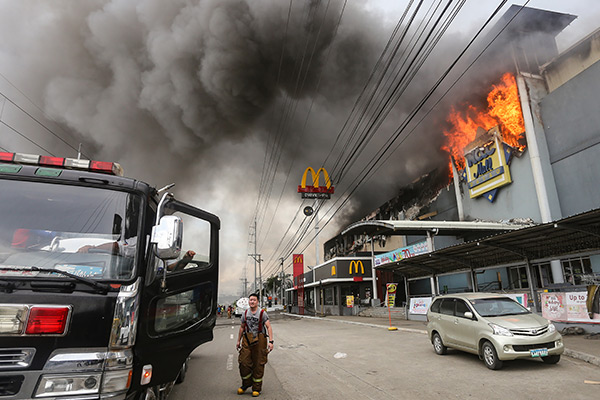 Initial reports said the fire started at around 9:30 a.m. last Saturday on the third floor of the mall, which houses flammable products like fabrics, wooden furniture and plastic ware. The reason for the blaze was not immediately known. AFP
Authorities discover safety lapses of fire-hit Davao mall
(philstar.com) - December 30, 2017 - 12:54pm
MANILA, Philippines — Authorities said Friday call center workers inside a Davao City mall, which was engulfed by fire, got trapped due to apparent failure of the establishment to meet the requirements for the enclosure of fire exits.
A task force has been formed to investigate the New City Commercial Center mall fire, which killed 37 call center employees of American firm SSI that occupied the entire top floor of the mall.
"Ang kanyang enclosures ay hindi full, may mga openings (The establishment's fire exit enclosures were not full, there were openings)," Fire S/Supt. Jerry Candido of the Interagency Anti-Arson Task Force told ANC TV.
"Kung ang iyong fire exit ay inside the building, the law requires that that must be enclosed para kung may usok man, hindi papasok yung usok don (If the fire exit was inside the building, the law requires that that must be enclosed to prevent the smoke from coming in)," Candido added.
According to the same ANC report, investigators also found that the fire alarm system of call center SSI was "defective" and was not connected to NCCC's system.
Administrators of the mall earlier denied allegations of locked or nonexistent fire exits at the building. They also insisted that fire alarm system worked during the blaze.
WATCH: No fire exits? Criminal probes into deadly Davao mall fire launched
Initial reports said the fire started at around 9:30 a.m. last Saturday on the third floor of the mall, which houses flammable products like fabrics, wooden furniture and plastic ware. The reason for the blaze was not immediately known.
Wilberto Kwan Tiu, Bureau of Fire Protection director in Davao, said the bodies were charred and could only be identified through DNA matching or by the pieces of clothes or jewelry that their relatives could recognize.
He believed all 37, some of whom were breadwinners, died of suffocation.
Toxic chemicals like cyanide and carbon monoxide were also released during the blaze, further dimming chances of survival, he added.
President Rodrigo Duterte, who served as mayor of Davao for about two decades and continues to live in the city, recently visited the mall to comfort relatives of the victims.
The shopping mall fire came at the height of Christmas misery in Mindanao after the southern region on Friday last week was hit by a storm that unleashed floods and landslide that displaced thousands and killed many.
For his part, Labor Secretary Silvestre Bello III vowed that no employee of the fire-stricken NCCC mall will be displaced as he ordered the release of P30 million worth of assistance Thursday.