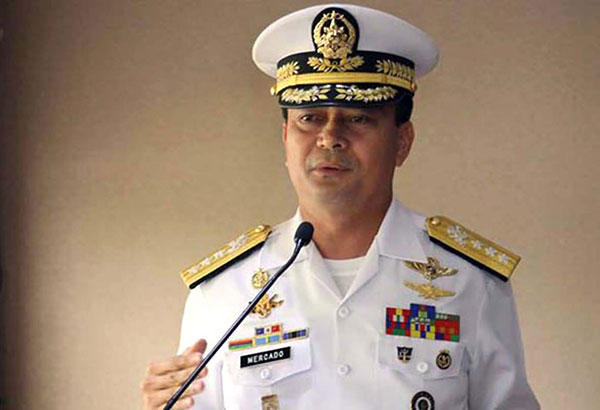 Philippine Navy chief Vice Admiral Ronald Joseph Mercado
Navy chief Vice Admiral Ronald Joseph Mercado sacked
Jaime Laude
(The Philippine Star) - December 19, 2017 - 4:00pm
MANILA, Philippines — Vice Admiral Ronald Joseph Mercado, Philippine Navy chief, was unceremoniously relieved from his post yesterday for still unknown reasons and reassigned on a floating status to the office of the Armed Forces of the Philippines (AFP) chief at Camp Aguinaldo.
He was replaced in an acting capacity by Rear Admiral Robert Empedrad, the former AFP deputy chief of staff for retirees and reservists (J9).
"The Philippine Navy as a professional organization always follows a lawful order from the chain of command. (In) the change of command ceremony this morning, the Navy extends its gratitude to Vice Admiral Ronald Joseph Mercado for his dedicated service rendered as the Flag Officer in Command," Navy spokesman Capt. Lued Lincuna said in a press statement.
Mercado is a member of the Philippine Military Academy (PMA) Class of 1983 while Empedrad belongs to PMA Class of 1986 and is a classmate of Director General Ronald dela Rosa, the Philippine National Police chief.
Although Lincuna said he does not know why Mercado was replaced, Camp Aguinaldo insiders revealed that it has something to do with the ongoing acquisition of two brand-new missile-firing frigates from South Korea.
Empedrad reportedly accused Mercado of corruption for favoring a French company following his trip to France. On the other hand, Empedrad was allegedly charged for his supposed involvement in ghost deliveries before the Office of the President.
"As a professional organization, we will support the newly installed acting (chief). Going forward, the Philippine Navy must and will continue to perform our constitutional mandate as protector of the people and state," Lincuna said.
But Magdalo party-list group Rep. Gary Alejano is unconvinced and plans to file a resolution asking the House committee on defense to inquire into the procurement of frigates.
"The relief is highly unusual and unceremonious. Vice Admiral Mercado was expected to serve out his remaining three months in the service. He is due to retire on March 18, 2018. It is rare that commanders are relieved a few months away from retirement, unless this is due to compelling reasons such as health or that he is accused of committing grave misconduct," Alejano said.
He added that turnover of commands are big military events and often celebrated, but "in the case of Mercado, he was relieved without fanfare. There was no announcement of his relief, which was done almost in secret."
"The question is why? I suspect that this has something to do with the lingering issue of the Navy's frigate acquisition project. Mercado stood his ground that proceeding with the procurement of the frigates under the present contract would be disadvantageous both to the Navy – which is the end user – and to the Filipino taxpayers," the former Marine officer said.
Empedrad assumed the helm of the Navy in command turn-over rites held at the AFP headquarters in Camp Aguinaldo yesterday morning.
An insider said Mercado now plans to retire early. – Jess Diaz