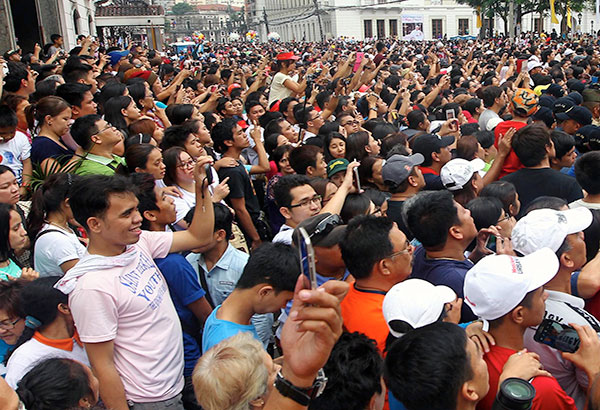 Social media are increasingly being used to prop up repressive regimes and undermine democracies worldwide, according to a digital diplomacy expert. File
Social media being used to ruin democracies including Philippines
MANILA, Philippines — There is an increasing worldwide pattern of social media use to aid repressive regimes and undermine democracy, a digital diplomacy expert said Wednesday.
Damien Spry, a digital diplomacy researcher and consultant based in Hong Kong, said things had greatly changed since the "bliss" spawned by the Arab Spring which made people see YouTube, Facebook and Twitter as vehicles that could strengthen civil society and the public sphere.
"Maybe they weren't wrong then, but things are different now. Social media has achieved pariah status. Like Saturn, the internet revolution is devouring its children," Spry wrote in a commentary on the Interpreter, an online publication of the Lowy Institute which is an independent, nonpartisan think tank based in Sydney, Australia.
Spry said that Freedom House's latest Freedom on the Net report detailed declines in internet freedom for the past seven years.
Other reports have also catalogued the breadth, variety and impact of social media manipulation in different countries including the Philippines through the use of paid and unpaid online agents and automated accounts (bots) that would post, share, like, quote and re-post content to influence politics.
In its 2017 Freedom on the Net report, Freedom House discussed how an army of social media commentators were paid to manipulate the information landscape in the Philippines to support President Rodrigo Duterte.
Freedom House said that there was an increase in reports of commentators being paid to manipulate social media information from June 2016 to May 2017.
"News reports citing individuals involved said the commenters, which they characterized as part of a 'keyboard army,' could earn at least P500 ($10) a day operating fake social media accounts supporting President Rodrigo Duterte or attacking his detractors," Freedom House said.
The report also noted that overall internet freedom in the country slightly worsened during the covered period.
There were also technical attacks targeting media groups such as the Philippine Center for Investigative Journalism and the National Union of Journalists of the Philippines from June last year to May, according to Freedom House.
One of the bases of the Freedom House Report was an Oxford University study which found that the Duterte campaign spent around P10 million to hire trolls who would spread propaganda material online.
The study said that Duterte's team of 400 to 500 cyber troops posted nationalistic and pro-government comments and harassed online dissenters.
According to Spry, these are just some of the main tactics used in manipulating information found on the internet.
He said that manipulators would feign grassroots support (astroturfing), smear opponents and disrupt online campaigns through distractions.
"The use of bots greatly amplifies impact: one human user can direct hundreds of bots to automatically generate thousands of posts and comments," he wrote.
READ: Palace disowns deleted PCOO video promoting martial law
The large amount of content and interactions, Spry said, would push it to the top of the pile and would make it more likely to appear on social media feeds of others.
A common tactic in countering an anti-government hashtag campaign is by promoting alternative hashtags or by posting nonsense using the critical hashtag, he noted.
Spry said that some of the countries affected by this were Sudan through its "Cyber Jihadists," the Philippines with its "keyboard army," Turkey through its 6,000 trolls and Mexico with its 75,000 automated accounts known as 'Peñabots.'