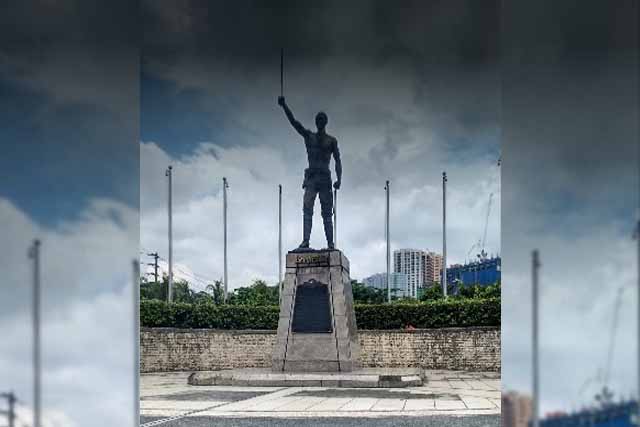 The Bonifacio monument was built in 1997 to commemorate the 100th death anniversary of the father of Filipino revolution.Wikimedia Commons, file
DPWH: Makati gov't informed of removal of Bonifacio monument
MANILA, Philippines —The Department of Public and Highways defended its move to topple the Bonifacio centennial monument in Makati City.
Almost week ahead of the commemoration of the 154th birthday of Andres Bonifacio this November 30, the DPWH said it brought down the monument of the Filipino revolutionary leader in West Rembo, Makati City to give way to the its new road project.
The DPWH is set to commence its Bonifacio Global City and Ortigas Center Link Road Project, Sta. Monica to Lawton Bridge and Lawton Avenue to Global City viaduct.
It said the Makati City government is informed of the removal of the Bonifacio monument.
"Please be informed that the removal of the said monument was properly coordinated with the Makati Local Government Unit," DPWH said.
"It was allowed by no less than Hon. Mar-len Abigail Binay, Mayor of Makati City to ensure that the statue will be preserved and will not be damaged nor get mess during the construction of the subject project," it added.
Last Tuesday, social consciousness advocate group DAKILA slammed the DPWH's move to topple the monument.
"This is how our government honors our heroes who fought for our freedom - tie them up to a pole. Is the government afraid the the Supremo will wage another revolution?," the organization said.
The monument was built in 1997 to commemorate the 100th death anniversary of Bonifacio.
DPWH Undersecretary for Legal Affairs and Priority Projects Karen Jimeno said the agency intends to restore the monument amid the criticisms.
"Nag-allocate po ang DPWH ng P39 million specifically para po irestore ito (The DPWH allocated P39 million specifically to restore the monument,)" Jimeno said in an television interview with ABS-CBN's Bandila.