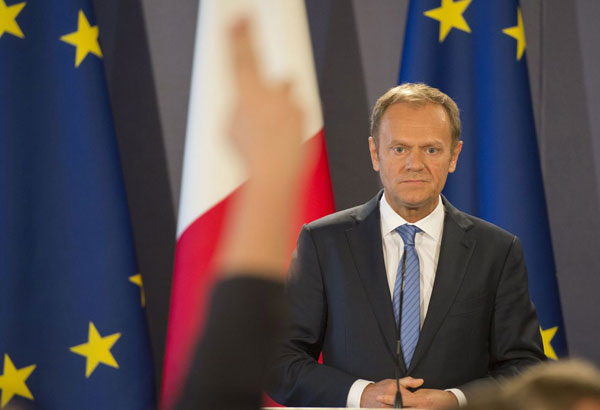 European Council President Donald Tusk will travel to the Philippines in November to attend the Association of Southeast Asian Nation Summit and related meetings at a time of tense relationship with Manila. AP/Rene Rossignaud, File
EU devotes €2 billion in bilateral cooperation with ASEAN, calls for closer ties
(Philstar.com) - November 13, 2017 - 2:05am
MANILA, Philippines — Amid rising geopolitical tensions and global challenges, Europe and ASEAN countries must forge closer ties, said European Council President Donald Tusk who also disclosed that the politico-economic bloc has earmarked over €2 billion in bilateral cooperation with Southeast Asian countries.
"Few emerging economies are growing so fast as those of ASEAN. Europeans want to do what we can to ensure this impressive achievement is sustained long into the future and helps as many people as possible," Tusk said in a statement.
"That is why the EU is doubling development cooperation funds to support ASEAN integration and also devotes over €2 billion in bilateral cooperation with all ASEAN countries," he added.
SPECIAL COVERAGE: ASEAN Summit in the Philippines
According to Tusk, the EU will continue to grow despite its "rumored demise" after the UK voted to leave the 28-member bloc last year.
"Paradoxically, EU public approval ratings have sharply increased since. Brexit shows the benefits of EU membership more clearly than any public relations campaign ever could," he said.
"The EU27 are conducting exit negotiations in a unified and well-organized manner, in a spirit of fairness towards Britain," he added.
"Whatever the outcome, the EU economy will continue expanding strongly, as it already is. A raft of ambitious new trade deals are being concluded with key partners, including with Singapore, Vietnam and Japan."
A regional bloc born out of security concerns 50 years ago, Southeast Asia has managed to maintain its stability for decades, making the ASEAN bloc a bright spot for social and economic prosperity.
The Philippines, one of the bloc's founding states, chairs this year's ASEAN summits. Members of the 10-nation regional bloc take turns at chairmanship.
Twenty-one world leaders—along with the United Nations and EU chiefs—will sit down for talks in Manila for the 31st ASEAN meet from November 11 to 14.
ASEAN as a whole represents the EU's third- largest trading partner outside Europe with more than €246 billion of trade in goods and services in 2014. Meanwhile, the EU is ASEAN's second-largest trading partner after China, accounting for around 13 percent of ASEAN trade.
In the same statement, Tusk said the EU aims to further open up trade and investment with ASEAN to eventually create "an ambitious inter-regional framework that can set trading standards globally."
He also called on ASEAN and European leaders to "talk more and more frankly" amid rising global uncertainties.
"Unfortunately, the world has become a more dangerous and unpredictable place in recent years. Rapidly evolving international realities require us to take counsel together and cooperate," Tusk said.
'Europe needs Asia, Asia needs Europe'
"In the end, it is simple. Europe needs Asia, and Asia needs Europe. Not only as trading partners, but as friends and allies in a world where the geo-political realities are changing fast, and where global threats and challenges endanger Asians and Europeans alike," he added.
"I look forward to discussing this ambition in depth in Manila and to marking the significant milestone of four decades of productive and positive relations. Long may it continue."
At the summits in Manila, the EU plans to revive the abandoned Free Trade Agreement talks with ASEAN in a bid to tap Southeast Asia's robust growth.
If settled, an FTA with ASEAN would allow the EU to link with the world's seventh biggest market.
To recall, the first trade talks between the two blocs were stopped as both sides encountered complexities in establishing common standards.
Human rights issues of many ASEAN economies have also become a challenge in forging an FTA considering the EU's requirement for good human rights record in its trade policies.
Among the human rights issues hounding ASEAN were the Philippines' bloody "war on drugs," the Rohingya crisis in Myanmar, the crackdown on dissenters in Vietnam and Cambodia, and junta rule in Thailand.