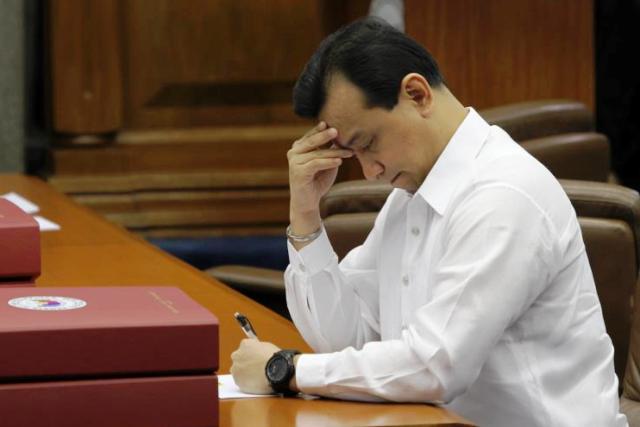 Sen. Antonio Trillanes IV. File
'No Trump mention of Trillanes'
Janvic Mateo
(The Philippine Star) - November 4, 2017 - 4:00pm
MANILA, Philippines — United States President Donald Trump has not made any official remark on the visit of Sen. Antonio Trillanes IV to the US last month, White House records show.
Seeking verification on claims that Trump made a remark about Trillanes, the US embassy in Manila referred The STAR to the official website where transcripts of the President's press engagements are available.
Trump made no mention of Trillanes in the transcripts.
In his column yesterday, Pilipino Star Ngayon (PSN) editor-in-chief Al Pedroche issued an apology over the uproar caused by his Oct. 30 column about the supposed remark wherein Trump supposedly called Trillanes "the lil narco who met with Marco" after meeting with Sen. Marco Rubio of Florida.
"I just found the punning attributed to Trump funny that's why I used it, coming from a source I had no reason to doubt," Pedroche told The STAR in a separate correspondence.
"I have no way of checking its veracity but since it was written as a column and not news, I used it not realizing its far-reaching implication," he added.
PSN is a sister company of The Philippine STAR.
In a statement, Trillanes accepted Pedroche's apology and called on STAR business columnist Mary Ann Reyes and controversial blogger RJ Nieto of Thinking Pinoy to also apologize for writing about the supposed remarks made by Trump.
"Now, I am waiting for RJ Nieto a.k.a. (not) Thinking Pinoy and Ms. Mary Ann Reyes of The Philippine STAR for their apologies for using the same fake news," Trillanes said.
Nieto is a staunch supporter of President Duterte and has been critical of the political opposition, including Trillanes.
Trillanes said his lawyers are already preparing the appropriate cases to file against Nieto and Reyes if they refuse to apologize to him.
'Relayed information'
Amid Trillanes' allegation that Trump's remark is fake, its apparent source stood by the story, saying it came "from well-placed sources" who supposedly overheard the US President making the remarks.
"The remarks as relayed to me were not part of the official pool – but – was overheard. It's not just (Bobby Capco) and a few others sharing this – but – has been widespread," New York-based freelance writer Mike Cohen said in a Facebook post.
Cohen, a former reporter of ABS-CBN, was referring to former journalist and press undersecretary Capco, who was the first to post about the matter on social media.
"Some have even twisted things a bit – adding or subtracting things. All I know what Bob shared is pretty much what I got as well – from well-placed sources," added Cohen.
Capco also maintained that the information from Cohen is reliable, noting that he is with the White House press office and strings for a number of agencies in the US. "We had been in contact for a long time now, and I just shared what he gave me, without naming names," he told The STAR.
Cohen did not name the "well-placed" sources who relayed to him the supposed remarks of Trump, but added that it was made while the Chief Executive was meeting with his supporters. – With Marvin Sy