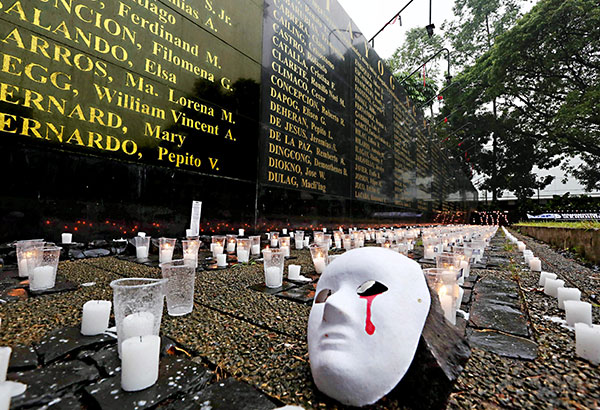 A mask rests near lighted candles left by families of victims of involuntary disappearances and extrajudicial killings at the Bantayog ng mga Bayani in Quezon City to commemorate All Souls' Day yesterday. Boy Santos
Church calls for healing; 'Manlaban' vs EJK launched
Eva Visperas
(The Philippine Star) - November 2, 2017 - 4:00pm
DAGUPAN CITY, Philippines — After the Catholic churches' ringing of bells to stop the killings in the government's war on drugs, another campaign will be launched on Nov. 5 to start the "healing."
Lingayen-Dagupan Auxiliary Bishop Jose Elmer Mangalinao told ABS-CBN Dagupan yesterday that after the "stop the killing" common action of the Church comes the healing called by Archbishop Socrates Villegas, starting with a mass this Sunday at the EDSA Our Lady of Peace Shrine in Mandaluyong.
Mangalinao said the stop the killing appeal is led by Villegas, outgoing president of the Catholic Bishops' Conference of the Philippines, which included the pealing of church bells started in August and ended yesterday.
The bell ringing that was also adopted in other dioceses lasted for 15 minutes every 8 p.m. since Aug. 22 to offer a prayer for those who were killed.
"It was done by the Mother Church to remind the faithful that life is sacred and no one has the right to take it away or to kill," Mangalinao said.
Villegas will lead the start of the healing drive while Mangalinao will also preside over a mass at the St. John the Evangelist Cathedral here on Nov. 5 at 6 p.m.
"To the dead, we remember them through prayers and to appeal to conscience of those who kill," Mangalinao said.
He added that they would continue to pray for the victims of killings and to help drug victims.
They hope the healing campaign will include a deeper interaction with people who have a big role to stop the problem.
He said this is also in time for the end of the Marawi siege where many soldiers and ordinary people have sacrificed their lives.
"We have to do ways to avoid these. Life is God's gift and it was only borrowed. May this be given meaning by means of love in what we do daily in our life," Mangalinao added.
Lawyers against killings
Practicing lawyers, law professors and students have banded together to form a group, dubbed as the Manlaban (Mga Manananggol Laban) sa extrajudicial killings, to defend human rights in light of the bloody drug war launched when Duterte took office last year.
Manlaban sa extrajudicial killings (EJKs), aims to stop the illegal killings and hold accountable all government officials who are responsible for the deaths.
Edre Olalia, chair of the National Union of People's Lawyers and one of the convenors, said the lawyers formed the group in their individual and personal capacities to unite for a common goal.
"Why are we here? We are here because we want to formally unite, we want to cooperate and coordinate our common goals into one. We believe that lawyers, the duty of lawyers is not to apologize, deodorize or rationalize rights and due process," Olalia said.
He said that it is the duty of all lawyers to consistently and uncompromisingly uphold and defend human rights, no matter how temporary and fleeting the positions and circumstances may be.
Former Quezon representative Erin Tañada said that the statements of the President should be matched with actions that would show accountability by going after rogue police officers.
The group stressed that it is not political, but the convenors are acting in their personal capacity, united in their common goal of protecting human rights.
The Sangguniang Laiko ng Pilipinas (SLP) said a "Heal Our Land" mass, dedicated to stop the EJKs in the country, would be held at the EDSA Shrine on Sunday as a "show of force" of those opposing the present ills of society.
In an interview over the Church-run Radio Veritas, incoming Laiko president Marita Wasan said the mass was an opportunity for people to show unity and love for country.
"This is to show our objection against the violence that is happening in the country and be united in our prayer for healing. Let us show our strength in condemning what is happening to our country so there will be healing," said Wasan.
After the mass, there will be a candlelight procession as they bring the image of the Our Lady of Fatima to the People Power Monument, a kilometer away from the EDSA Shrine.
Meanwhile, former education secretary and De La Salle Philippines president Armin Luistro has rallied support for the mass and procession against EJKs to be held at EDSA this weekend.
In a letter, Luistro called on Lasallians to actively take part in Lord Heal Our Land as part of their advocacy against extrajudicial killings and respect for human rights and democracy.
He invited those based in Luzon to meet at La Salle Greenhills at 2 p.m. on Sunday, where a short briefing will be held before proceeding to EDSA Shrine for the 3 p.m. mass.
"Right after the mass we will join the procession going to the People Power Monument," said the former education chief. – With Romina Cabrera Evelyn Macairan, Janvic Mateo