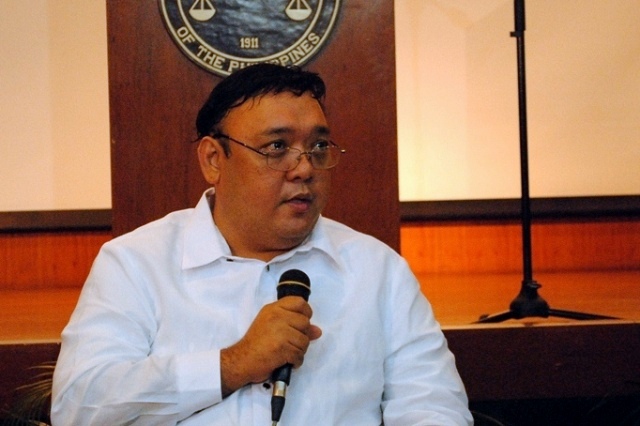 "If, in the past, you were able to throw stones without anyone hitting back, be warned that if you throw stones, I won't just throw stones but hollow blocks," presidential spokesman Harry Roque said in a video interview with Communications Assistant Secretary Mocha Uson before they joined President Rodrigo Duterte on a working visit to Japan the other night. ICC Coalition photo, File
Roque threatens Rody critics with 'hollow blocks, adobe'
(The Philippine Star) - October 30, 2017 - 4:00pm
DAVAO CITY, Philippines — He's not just a mouthpiece but also a staunch defender of his boss, so don't make the mistake of crossing paths with newly appointed presidential spokesman Harry Roque.
"If, in the past, you were able to throw stones without anyone hitting back, be warned that if you throw stones, I won't just throw stones but hollow blocks," Roque said in a video interview with Communications Assistant Secretary Mocha Uson before they joined Duterte on a working visit to Japan the other night.
"Stop throwing stones. If you want, just help the country with the many problems it is facing. Just wait for the adobe and hollow blocks that I will throw at you," Roque warned.
He clarified though that he also believes in "allowing the marketplace of ideas to flourish."
The President officially announced the appointment of Roque, former Kabayan party-list representative, as presidential spokesman replacing Ernesto Abella, who has reportedly been offered positions in other offices, including ambassador to either Australia or Germany.
Roque said he looks forward to being able to communicate the government's messages to the Filipino people in his new role.
He noted that he has not had a negative experience with the press in the past and hopes to have a good working relationship with the media and the Malacañang Press Corps.
Although his first Cabinet meeting would be on Nov. 6, Roque already got to work as presidential spokesman when he acted as moderator of the President's pre-departure press briefing Sunday night.
Duterte is confident that Roque would live up to expectations.
"It's in the messaging, actually. We cannot speak the same words altogether but how he would convey that message from me would be most important," the President said.
He refused to detail why he had to replace Abella and appoint Roque as presidential spokesman, except to say that "the reason is my personal decision, I am not about to explain why I did it."
Senators wished Roque good luck and advised him to make sure he clarifies the President's messages.
"I hope he (Roque) does a good job. I know he's got a difficult job but just a reminder: he should balance things. He shouldn't quarrel with everyone. Let's not add to negativity. We should help clarify matters," said Sen. Joseph Victor Ejercito.
"The President has a very colorful personality but that's the way he is – no nonsense," he added, noting that the President's communications team should be at the forefront in mending strained relationships, especially with communities like the European Union.
Senate Majority Leader Vicente Sotto III said each presidential spokesperson has his or her own style of speaking for the president, as detained Sen. Leila de Lima lamented that Abella's departure could mean the "further decline of the level of discourse and language we could expect from now on from the President and his men."
Roque said he will have to wrap up his affairs in Congress and formally inform Speaker Pantaleon Alvarez about his new post.
He plans to bring with him his staff of six to Malacañang and introduce changes in the setup in the Office of the Presidential Spokesperson.
"But those things have to wait till after Christmas," Roque said, adding that he still has to look into his new post and the policies and management of the office.
He recalled that Special Assistant to the President Christopher Go first called on him about the position last Oct. 14 while he was on vacation in Japan. They met in a restaurant near Malacañang two days after.
Roque met with the President on Oct. 27 during a dinner at the Marina Tuna Seafood Restaurant in Davao City where they discussed the offer for him to become presidential spokesman.
Prior to this appointment, Roque also served as head of the Center for International Law, the Philippine-based human rights advocacy group whose lawyers represented families of the victims of the Ampatuan massacre and the kin of transgender Jennifer Laude.