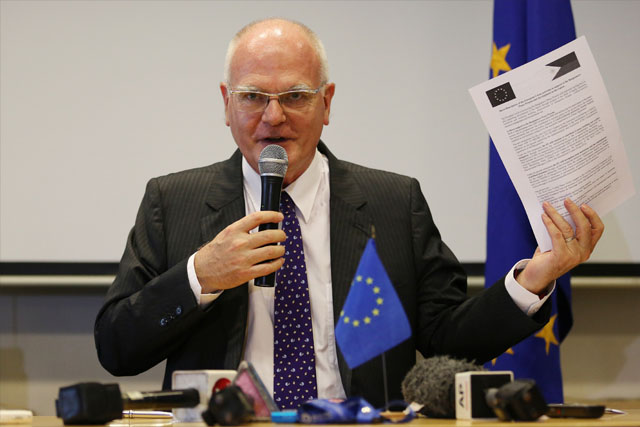 EU Ambassador Franz Jessen said the group is eyeing a grant that would focus on the rehabilitation of Marawi City as well as the whole of Mindanao. File
EU eyes €100-M grant for Marawi rehab
MANILA, Philippines — The European Union (EU) is looking to offer the Philippines a grant of as much as 100 million euros for the rehabilitation of war-torn Marawi City.
EU Ambassador Franz Jessen said the group is eyeing a grant that would focus on the rehabilitation of Marawi City as well as the whole of Mindanao.
"Right now, we are discussing internally in the EU, we're talking about 55 million euros. Later on we intend to expand around 100 million euros for Mindanao and Marawi," Jessen said on the sidelines of the 4th Energy Smart Philippines summit yesterday.
Jessen said they have already spent under 1 million euros on assisting Marawi in areas such as water purification.
"Things that are very practical that don't affect foreign policy but it does affect the daily life of the people there," he said.
Jessen emphasized the new assistance would focus on job creation in the region.
"We look at this as partly reconstruction, but also to give the people hope and permanent jobs. So job creation would be a major focus. Energy will also be a major focus," he said.
The EU ambassador stressed the importance of rehabilitating Marawi for the Philippines to attract more European investors into the country.
"The European investors don't look at the country divided into different regions, but they look at it as one country. And it is important that there is peace across the country," Jessen said.
Sought to comment on the issue of Foreign Affairs Secretary Alan Peter Cayetano reportedly rejecting the EU's grant to the country, Jessen said he met with the official two days ago.
"We had a very good discussion. We had a very intense discussion with Secretary Cayetano and (Finance) Secretary (Carlos) Dominguez and then we went through the different issues and we're sort of going back to our corners and see how we can modify," Jessen said.
Cayetano confirmed meeting the EU ambassador.
"If there are no conditionalities and it will not affect our sovereignty, then everyone is free to help," Cayetano had said.
President Duterte has been ranting at the EU for criticizing his policy against illegal drugs.
In May, Duterte informed the EU that the Philippine government would no longer accept development aid from the body.
Jessen said the decision to cut aid from the EU would mean the loss of about 250 million euros worth of grants, mostly allocated to Muslim communities in Mindanao.
Jessen stressed the EU would continue its development program.
"Our development assistance is for the Philippines and that's where we need to focus. It's for companies, it's for people, it's health, it's energy, it's better education and it's the reconstruction of Marawi," Jessen said.
Military operations have cost P5 billion ($97 million) and the government estimates it could cost 10 times that much to rebuild Marawi.
Apart from the EU, Australia, the United States, Singapore, Russia, the World Bank and the Asian Development Bank are among the countries and organizations that have offered to help.
In a related development, San Miguel Corp. (SMC) donated P2 million as seed capital for each family of the soldiers who died in the battle of Marawi.
"This project from San Miguel Corporation which will extend P330 million to 163 soldiers or police killed in action at P2 million as seed capital for a business startup assistance for each of family (of soldiers) killed in Marawi," SMC president and chief executive officer Ramon Ang said.
Ang and outgoing Armed Forces of the Philippines (AFP) Gen. Eduardo Año sealed the donation in a ceremony held at Camp Aguinaldo yesterday.
"This is the best we can honor them. We cannot replace them or can we repay them for their sacrifice, but we can honor them and help them fulfill their dream of better lives for their families," Ang said.
Año, for his part, was all praises for the gesture.
"The donation of P2-million seed business capital would really go a long, long way for the bereaved families for them to be able to get going, building their own lives and show that their husbands or their sons who died fighting really did all their best for the country," Año said.
"Mr. Ang, you're an angel to our bereaved families. We cannot thank you enough, the whole AFP is really in gratitude… hence the AFP, as I said, will always be the professional armed forces that will be the protector of the people and the state," he told Ang. – Jaime Laude