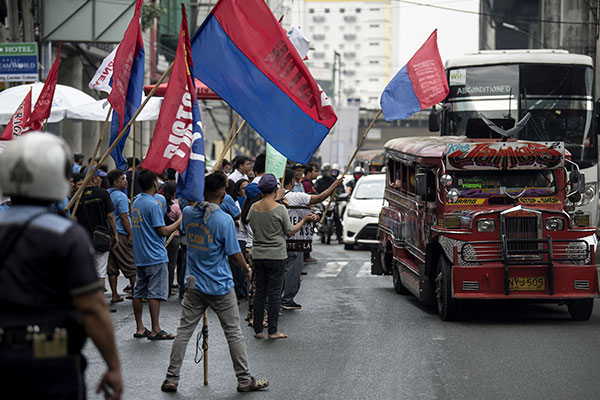 Activists and jeepney drivers hold banners during a jeepney transport strike held in Manila on October 16, 2017. Jeepney drivers and activists staged a nationwide transport strike in protest against the government's plan to phase out the ubiquitous passenger jeepney as part of a modernization campaign to turn the Philippines' main form of public transport green. Noel Celis/AFP
Palace suspends gov't work, classes in all levels on October 17
MANILA, Philippines (Update 2 11:26 p.m.) — Malacañang on Monday evening took back its earlier announcement and said that work in government offices and classes in all levels would be suspended Tuesday due to the ongoing transport strike of jeepney drivers.
According to Executive Secretary Salvador Medialdea, the suspension of classes and government work for the second straight day was due to the "transport strike, public health and safety."
"May transport strike, ulan, bagyo at walang masakyan. Baka magkasakit mga kawani ng gobyerno at mga estudyante kung maulanan at walang masakyan," Communications Secretary Martin Andanar said.
This is the second straight day that the government has suspended work in public offices and classes in school as thousands of drivers protest the planned modernization of jeepney units in the country.
The latest suspension covers public and private schools, government offices under the executive department and state-run companies.
Despite the opposition from some transport groups, the jeepney modernization program of the government would still continue, presidential spokesman Ernesto Abella said on Monday.
He said that the upgrade of the country's fleet of jeepneys was "long overdue" and emphasized that the government was committed to this project.
The Land Transportation Franchising and Regulatory Board earlier claimed that Monday's stoppage of jeepney operations barely had an impact and recommended to the Palace not to suspend Tuesday's work and classes.
It also claimed that the two-day strike was part of a ploy to destabilize President Rodrigo Duterte's administration but the agency did not release any evidence to support this.
Pinagkaisang Samahan ng mga Tsuper at Operator Nationwide is leading the protest of around 200,000 drivers and operators who are against the phase-out of units 15 years or older starting in 2018.
PISTON has also denied that this was part of supposed moves to topple Duterte.
The drivers and operators also said that the plan to replace their units would result in huge amounts of debts despite the low-interest rates and subsidy that the government was offering them.
As of this writing, the Palace has yet to release the order that serves as the basis for the work and class suspension.