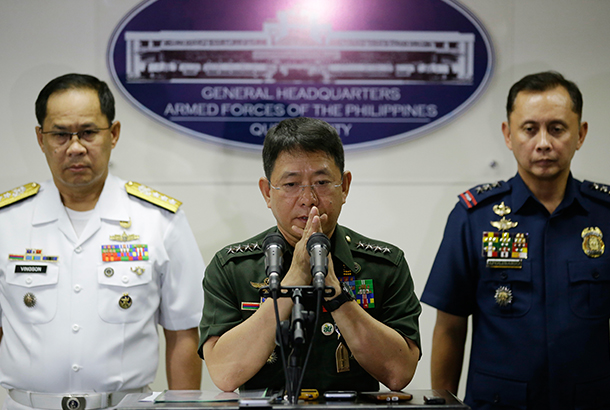 AFP chief of staff Gen. Eduardo Año said they are ready to provide soldiers to support anti-drug operations, citing an existing memorandum of agreement with the PDEA. AP Photo/Aaron Favila, File
AFP to back PDEA in drug war
MANILA, Philippines — The Armed Forces of the Philippines (AFP) will continue to support the Philippine Drug Enforcement Agency (PDEA) as it takes the lead in the national government's fight against illegal drugs.
AFP chief of staff Gen. Eduardo Año said they are ready to provide soldiers to support anti-drug operations, citing an existing memorandum of agreement (MOA) with the PDEA.
"In line with the February 2017 MOA, the AFP has been a significant force provider to the anti-illegal drug operations, especially in conflict-affected areas, particularly where conditions for insurgency, secessionism and terrorism persist," Año said yesterday.
Now that the Philippine National Police (PNP) is taking a backseat on the campaign, he said the AFP is reaffirming the military's commitment to the country's war on illegal drugs.
AFP public affairs office chief Col. Edgard Arevalo said President Duterte has directed the PNP, the National Bureau of Investigation, the Bureau of Customs and all other government agencies to leave to the PDEA the conduct of all campaigns and related operations.
To help the national government, the AFP expanded its joint counterintelligence task force NOAH, an ad hoc unit created and mandated by the AFP to conduct drug-related counterintelligence operations, aside from the establishment of regional task groups, Arevalo added.
The AFP cited recent data from regional task groups showing 6,981 operations jointly conducted from July 2016 to Sept. 2017 and resulting in the arrest of 1,241 drugs suspects and the killing of 146.
Joint raids of drug laboratories also yielded a total of P1.9 billion worth of shabu manufacturing equipment, significantly crippling the production of methamphetamine in the country. More than 52 kilos of shabu were confiscated in the operations.
Arevalo said internal security operations against terror groups have also resulted in the neutralization of several drug suspects in Mindanao, including Abu Sayyaf group kidnap-for-ransom leader and illegal drug pusher Butchoy Hassan alias Black/Bocci in Sitangkai, Tawi-tawi and Al-sharif Ajibon alias Panda in Indanan, Sulu.
The AFP said 18 drug personalities were also captured in Kapatagan, Lanao del Norte last December and another 11 in Pikit, North Cotabato last March 17. At least P1 million worth of shabu was also confiscated in the Pikit raid.
"I commend our soldiers for their professional and efficient intelligence and manpower support afforded to the PDEA and the PNP in their anti-illegal drugs operations," Año said.
"Rest assured that despite the focus of our mandate to address internal and external threats to the country, we will not lose sight on the drugs scourge and will actively support PDEA in its endeavors," he added.