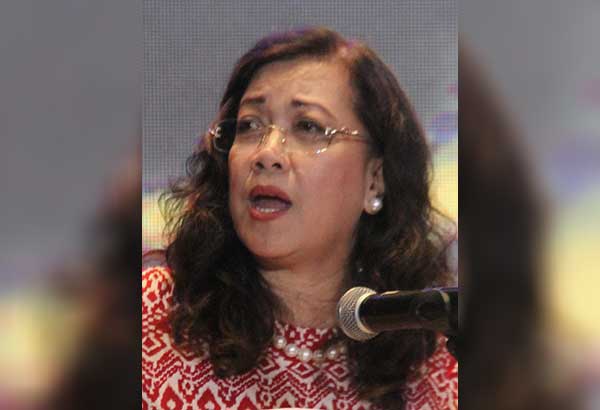 Duterte as Sereno prosecutor proposed
(The Philippine Star) - October 7, 2017 - 4:00pm
MANILA, Philippines — The complainant in the impeachment case against Chief Justice Maria Lourdes Sereno wants President Duterte included in the panel that would prosecute her in a Senate trial.
"I will file a motion to allow or invite President Duterte to become one of the special prosecutors," lawyer Lorenzo Gadon said at a forum in Quezon City.
Gadon is accusing Sereno of ostentatious lifestyle, under-declaring her wealth and betrayal of public trust.
The complainant is identified with the Marcoses and Pampanga Rep. Gloria Macapagal-Arroyo, both staunch Duterte allies.
Gadon said he came up with the idea of including Duterte in the prosecution panel after hearing him talk on television about filing impeachment complaints against Sereno and Ombudsman Conchita Carpio-Morales.
As no other impeachment complaint can be filed against Sereno due to the ban on filing more than one case against the same official within a year, Gadon said the President at least should be allowed to stand as a special prosecutor.
Some lawmakers, however, are cool to Gadon's proposal. House Deputy Speaker and Capiz Rep. Fredenil Castro said under the Constitution, the panel of prosecutors must come from their ranks and not from the executive branch.
"I'm afraid we cannot appoint anyone from the executive branch unless we amend the Constitution," he said in the same forum.
Surigao del Sur Rep. Prospero Pichay agreed with Castro's view, noting an impeachment trial is an exercise of the legislative branch of government.
"The separation of powers between the two branches might be violated," he said.
There is no case yet against the ombudsman, but Duterte's allies in the Volunteer Against Crime and Corruption are planning to file one next week.
Gadon said he has not talked to Duterte or to any member of Congress about his proposal.
To his knowledge, Gadon said there is no law preventing Duterte from joining a political exercise such as an impeachment trial. Duterte was a prosecutor before he became mayor of Davao City.
Asked about the possibility Duterte's presence influence senators sitting as judges in an impeachment court, Gadon said people should not doubt the independence of members of the upper chamber.
"Our senators are mature individuals and have their own minds. They would look at the presentation of evidence," said Gadon.
After declaring the impeachment complaint as having "sufficient grounds" to proceed, the House justice committee would next determine probable cause to send the case to the Senate for trial.
Speaker Pantaleon Alvarez has vowed to obtain the support of as many as 200 of his colleagues – or twice the number needed – to have Sereno tried by the Senate functioning as an impeachment court.
The Senate, dominated by Duterte allies like the House, has started preparing for a trial.
The Chief Justice and the ombudsman have been the objects of incessant tirades from the President.