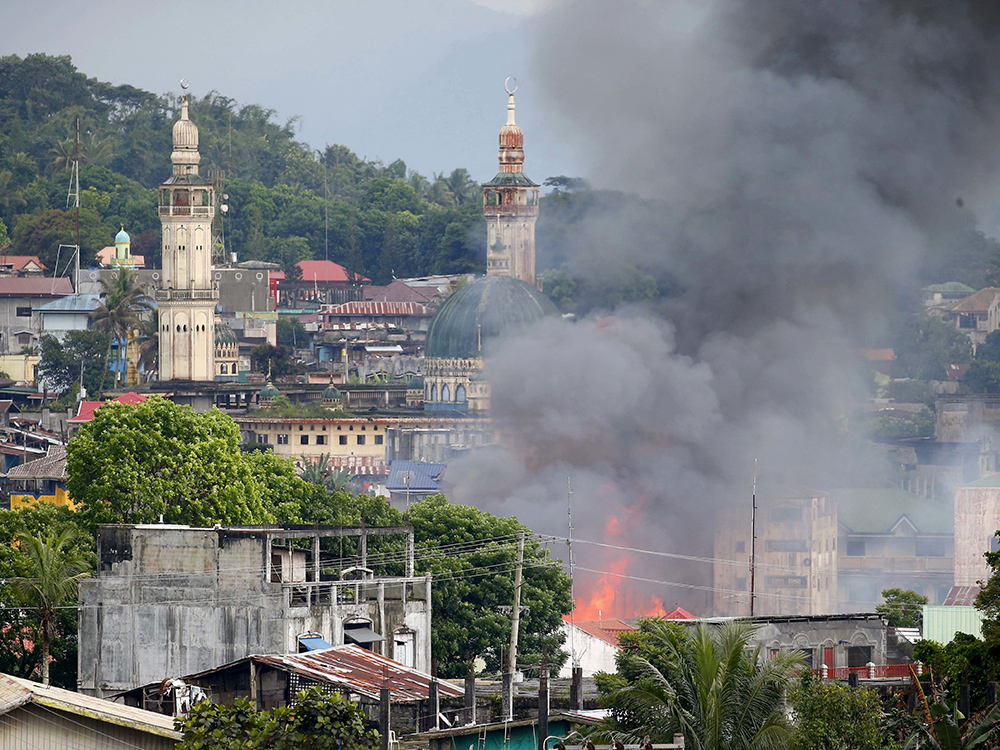 A fire rages in houses following airstrikes by the Philippine Air Force in Marawi, southern Philippines, Saturday, May 27, 2017. AP/Bullit Marquez
40 hostages still inside Marawi, says AFP
(philstar.com) - October 6, 2017 - 6:26am
MANILA, Philippines — There are 40 hostages still held by ISIS-linked terrorists in the besieged Marawi City, the military said on Friday as security forces target to liberate the city before Southeast Asian leaders visit Manila for a November summit.
"Based on the debriefing that was conducted of all these individuals, we gathered based on their information passed on to us that there remains still about 40 hostages in the area," Armed Forces of the Philippines Spokesperson Maj. Gen Restituto Padilla Jr. said in a press conference.
According to Padilla, the remaining captives in Marawi are guarded by as much as 50 extremists, adding that advancing troops are making sure that hostages will be rescued without causing government casualties.
"So this will be the subject of our operations in the next few days and this is the reason also why we have not given out," the military spokesperson said.
"So this is something that is a good revelation on the part of the hostages that came out and were rescued. And this becomes a very important factor in the final planning for the final push we're doing for the remaining areas held by the terrorists," he added.
A failed attempt by government troops to arrest Abu Sayyaf leader Isnilon Hapilon in Marawi on May 23 triggered the battle against the Maute group, homegrown jihadist militants who claim allegiance with ISIS and backed by some foreign fighters.
The urban warfare prompted President Rodrigo Duterte to place the entire Mindanao region under military rule. After the declaration reached the 60-day limit, Congress overwhelmingly voted to extend martial law in the strife-torn region until yearend.
Hapilon, the appointed emir of ISIS in the region, is wanted for the kidnapping of foreigners in the Philippines. The US government has put up a $5-million bounty for his capture with his name on its "most wanted" terror list.
Meanwhile, as the security crisis drags on, Padilla, without giving exact dates, said state forces are eyeing to fully retake Marawi before the Philippines' hosting of the 31st Association of Southeast Asian Nations summit next month.
The military originally sought to finish the operations against the Maute militants last June 2 but stiff resistance and the presence of trapped civilians prevented them from doing so.
Duterte and Defense Secretary Delfin Lorenzana last September said the Marawi crisis could be over "by the end of the month." But security forces later asked for an extension after failing to meet the announced September 30 deadline.
As of Ocober. 5, the number of enemies neutralized remained at 735 while troops killed-in-action reached 155. Meanwhile, 1,750 civilians have been rescued.