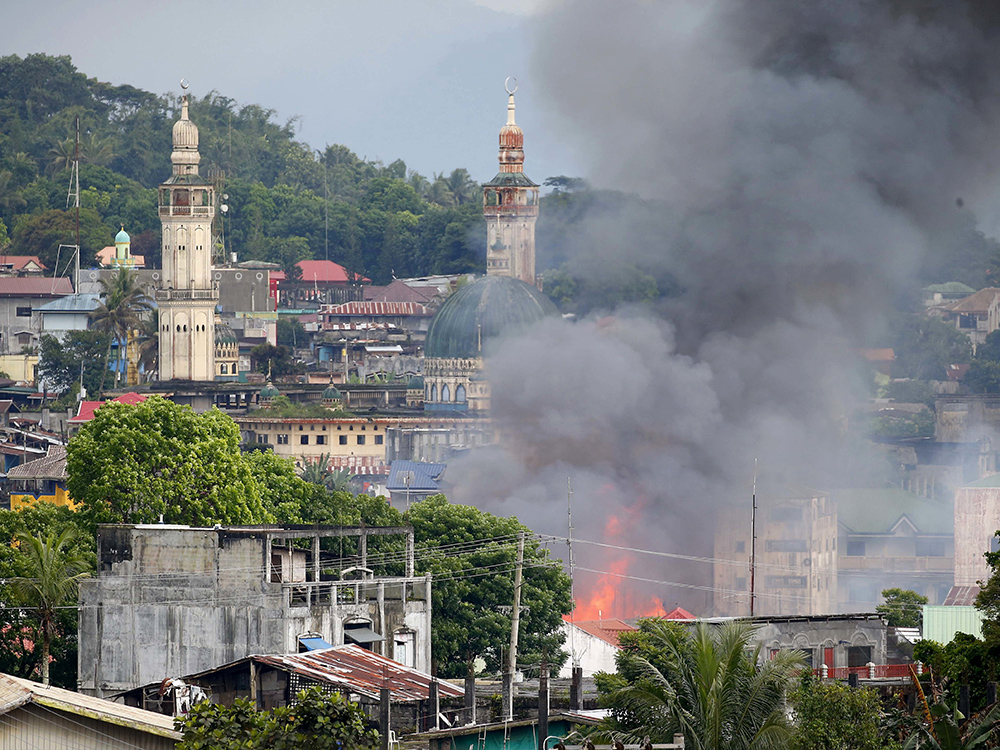 A fire rages in houses following airstrikes by the Philippine Air Force in Marawi, southern Philippines, Saturday, May 27, 2017. AP/Bullit Marquez
AFP seeks Marawi deadline extension
MANILA, Philippines — Security forces have asked for an extension after failing to meet the announced September 30 deadline to retake Marawi City from ISIS-inspired local terror groups.
Last week, Defense Secretary Delfin Lorenzana announced that the security crisis in Marawi "could be over at the end of this month."
The Armed Forces of the Philippines, however, said that the clearing operations may take 10 to 15 more days.
"We will ask for some leeway... Maganda naman 'yung usad ng operations," Lt. Gen. Carlito Galvez, Western Mindanao Command (Westmincom) commander, said in a television interview. Westmincom is the area command in charge of Marawi operations.
Galvez noted that government forces have taken significant control over the area.
RELATED: Duterte hopes Marawi battle over 'by the end of the month'
The buildings that need to be cleared and the hostages who need to be rescued continue to be a challenge for government troops, Galvez said.
About 43 to 46 hostages remain in the hands of the Maute group, according to the Westmincom.
Galvez added that the main battle area continues to decrease in size after government forces retook the White Mosque.
The Maute group now only has two mosques under their control.
"More or less makita natin parang kung ano 'yan... siguro dalawang football field," Galvez said, referring to the size of the battle area in Marawi.
President Rodrigo Duterte declared martial law and suspended the writ of habeas corpus in Mindanao following a clash between government forces and the Maute group in Marawi City last May.
After the declaration reached the 60-day limit, the Congress voted to extend martial law in the region until the end of the year.