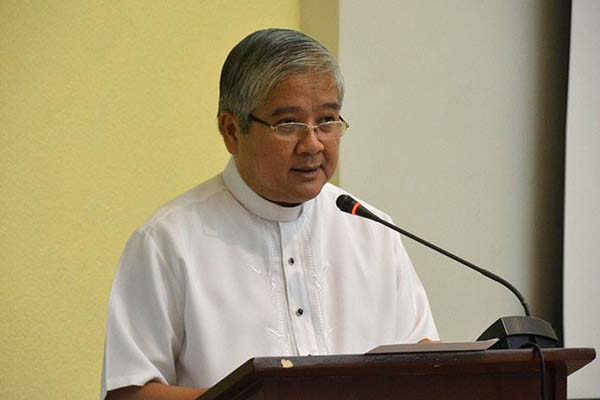 Catholic Bishops' Conference of the Philippines President Socartes Villegas called on his fellow priests "to open their hearts and their rectories [...] and to be responsible for the security of the gallant men and women in uniform who may have something important to tell the nation or to testify on before the proper forum." Photo from Catholic Bishops' Conference of the Philippines Facebook page
Cops seek refuge with Church to testify on EJKs
(philstar.com) - October 2, 2017 - 5:53am
MANILA, Philippines — Police officers have approached the Church to testify about their participation in extrajudicial killings in the government's war on drugs, the president of the Catholic Bishops' Conference of the Philippines said Monday.
In a statement, Lingayen-Dagupan Archbishop Socrates Villegas said the law enforcers have approached priests to seek sanctuary, aid and protection because "their consciences are troubling them."
While the Church will grant the cops accommodation and protection, the spiritual leaders will also look into the sincerity of their motives and the veracity of their stories.
"The hospitality, comfort and acceptance that they seek from the Church will be attended to. Whatever we do to the least of our brethren we do to Christ," Villegas said, quoting a line from the Gospel of Matthew.
The CBCP president emphasized that priests will not force police officers to speak and will not turn over those who confessed to the state if they prefer to stay with the Church.
Villegas called on his fellow priests "to open their hearts and their rectories [...] and to be responsible for the security of the gallant men and women in uniform who may have something important to tell the nation or to testify on before the proper forum."
He added: "Let us be guardian angels for one another."
Senators welcome development
During the Senate probe into extrajudicial killings Monday, Sen. Antonio Trillanes IV presented the affidavit of a certain Vincent Tacorda, a resigned policeman in Catanduanes province, on the alleged directive to kill drug suspects.
In his affidavit dated May 10, he revealed he was ordered to deliver an "accomplishment of five to 10 deaths of drug personalities" in his area.
Sen. Panfilo Lacson, a former Philippine National Police chief, urged the Catholic Church to deliver the police officers to the Senate inquiry.
Sen. Grace Poe, in an e-mailed statement, said she welcomes :the willingness of these involved policemen to finally speak about their actual involvement in the EJKs and I laud the church in opening its arms wide to provide sanctuary for them."
She said that these "are positive developments we look forward to all for the sake of serving truth and justice to the victims and their families."
The Catholic Church is one of the institutions critical of the critical of President Rodrigo Duterte's bloody crackdown on illegal drugs because of its belief in the right to life. This has earned it criticism from Duterte supporters, ranging from a reminder to stay out of political affairs to condemnation for its perceived inaction on sexual abuse within the church.
Last month, Justice Secretary Vitaliano Aguirre II said Caloocan Bishop Pablo Virgilio David could be guilty of obstruction of justice for taking the custody of the witnesses to the killing of school boy Kian Loyd delos Santos.