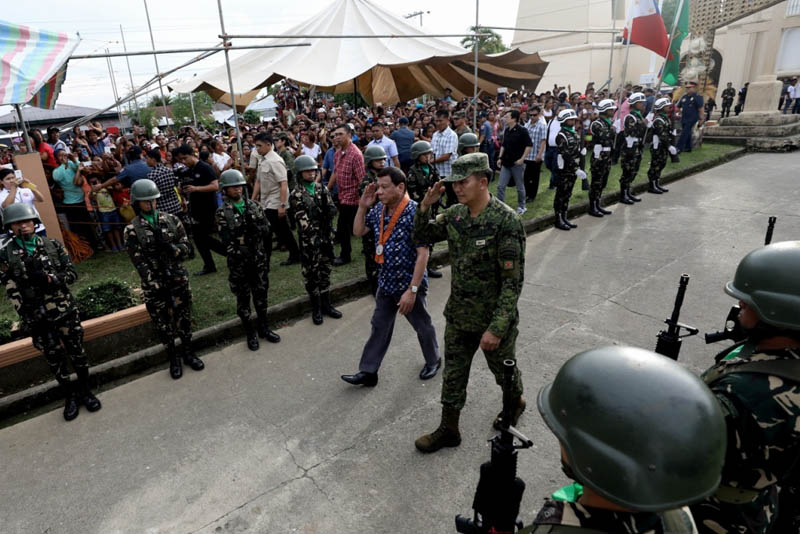 President Rodrigo Duterte is accorded with foyer honors upon his arrival at the Balangiga Encounter Monument in Eastern Seminar for his attendance to the 116th Commemoration of the Balangiga Encounter Day on Sept. 28, 2017. Accompanying the president is 8th Infantry Division Commander Major General Raul Farnacio. PPD/Simeon Celi Jr.
Duterte: Bamboo triad gave franchise to Abu Sayyaf
(Philstar.com) - September 29, 2017 - 2:58am
Manila, Philippines — President Rodrigo Duterte on Thursday claimed that the Bamboo triad of Taiwan, which he earlier said was shipping drugs to Manila before sending them to the US, granted the notorious Abu Sayyaf group a "franchise."
Duterte early this week said the Bamboo triad and 14K of Hong Kong were running the drug trade in Southeast Asia, adding that the Philippines now serves as a transshipment of narcotics to the US.
In his speech in Balangiga, Eastern Samar, Duterte said Islamist terrorist group Abu Sayyaf – which is known for beheading, kidnap-for-ransom and extortion – was among those given a franchise by the international drug syndicate.
"Now, I'd like to tell you now, kinuha na ng Bamboo Triad, ngayon it's being run. China government has nothing to do with it. The Chinese people have nothing to do with it. It's the gangsters of the Philippines and China... they combined together and making the life of the Filipinos miserable," Duterte said in Samar on the anniversary of the Balangiga Encounter.
"Sila na ang nagluto sa barko, tapon nang tapon na lang. And they had franchises. They have a franchise given to the Abu Sayyaf kasi may armas eh at nakapag-trabaho," he added.
Both China and Taiwan had denied being source of drugs in Philippines.
Abu Sayyaf's activities are mostly banditry and piracy. Most of the group's profit from its business is spent on modern weapons and fast boats.
The military earlier said Abu Syyaf bandits have already involved themselves in the drug trade to sustain their operations against the government and conduct terror attacks.
This was after joint military and police forces killed a suspected Abu Sayyaf militant and arrested 34 others during an anti-illegal drug operation in a remote village in Patikul, Sulu last April.
Last Tuesday, Duterte said the deadly Marawi siege, which has dragged on since May, erupted after security forces served a warrant of arrest on a drug lord operating there.
But his claim runs counter to what security forces have been saying since hostilities in the city began months ago.
According to the military, a failed attempt by government troops to arrest Abu Sayyaf leader Isnilon Hapilon in Marawi on May 23 triggered the battle against the Maute group, homegrown jihadist militants who claim allegiance with the Islamic State of Iraq and Syria and backed by some foreign fighters.
Hapilon, the appointed emir of ISIS in the region, is wanted for the kidnapping of foreigners in the Philippines. The US government has put up a $5-million bounty for his capture with his name on its "most wanted" terror list.
Duterte has, in the past, said that drugs are behind the Marawi siege, claiming in June that "Christians and the Moro, who were into shabu sought sanctuary amongst the terrorists for protection and to ensure the success of their business."
Last week, Duterte released a "drug matrix" of politicians and alleged drug lords whom he claims to have financed the fareurban war, the biggest internal security crisis for the Philippines in decades.