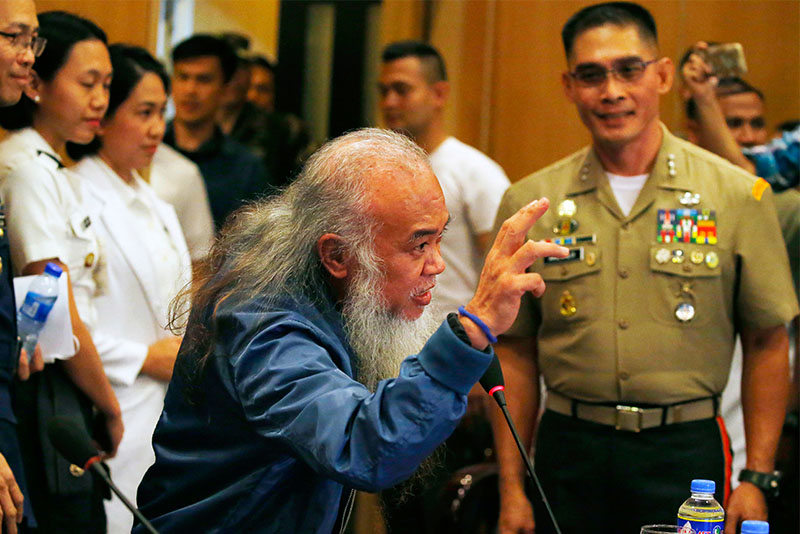 Rescued Roman Catholic priest Father Teresito Soganub, center, blesses the media as he is presented in a news conference Monday, Sept. 18, 2017 at Camp Aguinaldo in suburban Quezon city, northeast of Manila, Philippines. Philippine troops have rescued Soganub and another civilian who were among dozens of people abducted in May when hundreds of militants aligned with the Islamic State group laid siege on southern Marawi city, officials said. AP/Bullit Marquez
Palace calls Marawi priest's first mass since rescue a 'celebration of life'
(Philstar.com) - September 25, 2017 - 2:00pm
MANILA, Philippines — Malacañang described as a "great celebration of life" Fr. Teresito "Chito" Suganob's first mass since he was freed from the clutches of the Maute terrorists.
Suganob, who was kidnapped by the jihadists last May 23, celebrated mass in Camp Aguinaldo last Sunday.
About 40 soldiers and civilians joined the mass, which marked Suganob's return to duty as a Catholic priest.
"It was a great celebration of life for Father Chito, whose personal safety was placed in danger because of the gun battles happening in Marawi City," presidential spokesman Ernesto Abella said.
"According to him (Suganob), the mass is also a thanksgiving for the lives of those who were rescued. To date, a total of 1,730 people have been rescued by government forces," he added.
Abella said Suganob is praying that he would be able to celebrate mass at St. Mary's Cathedral in Marawi once the area is cleared of terrorists. The cathedral was desecrated by the Islamic State-inspired terrorists last May.
Officials said Suganob was rescued from his captors last September 16, almost four months after he was kidnapped by the extremists.
President Rodrigo Duterte has denied that negotiations were conducted to secure the priest's freedom, saying the release was made possible by "special operations" by the military.
Before Suganob's release, there were reports that the Catholic priest has converted to Islam.
A total of 695 Maute terrorists, 151 government troopers and 47 civilians have died since the Marawi siege started last May 23.
'Maute group has multiple funding sources'
Malacañang said the Maute group may have multiple sources of funds after Duterte disclosed the names of politicians who allegedly contributed resources to the terrorists.
Duterte released over the weekend a matrix of politicians who supposedly funded the siege to prove the link between illegal drug trade and terrorism.
Among the politicians in the new drug matrix were former Mayor Mohd Ali "Merikano" Abina of Marantao town, Mayor Pangga Abinal Mulok of Maguing town, former mayors Fahad Salic and Solitario Omar Ali of Marawi City and the Parojinogs of Ozamiz City.
Some of the politicians mentioned in the matrix have been accused of being protectors of drug lords.
During the start of the crisis, Duterte claimed that the Islamic State, the extremist group that occupied parts of Iraq and Syria was behind the siege.
Asked to explain the relationship between the Islamic State and local politicians, Abella said those into narcotics trade are in cahoots with terrorists who attacked Marawi.
"Let's put it this way, I suppose there's a multiple streams of income coming in," the presidential spokesman said.
"Apparently, it's a circuitous loop. Government, drugs, terror groups. So in a sense, they're all part of this, apparently part of this loop… Part of the local funding to buy equipment food and stuff like (that) is provided by the sale of local drugs," he added. — Alexis Romero