Trillanes files complaint vs Mocha before ombudsman
September 22, 2017 | 3:55am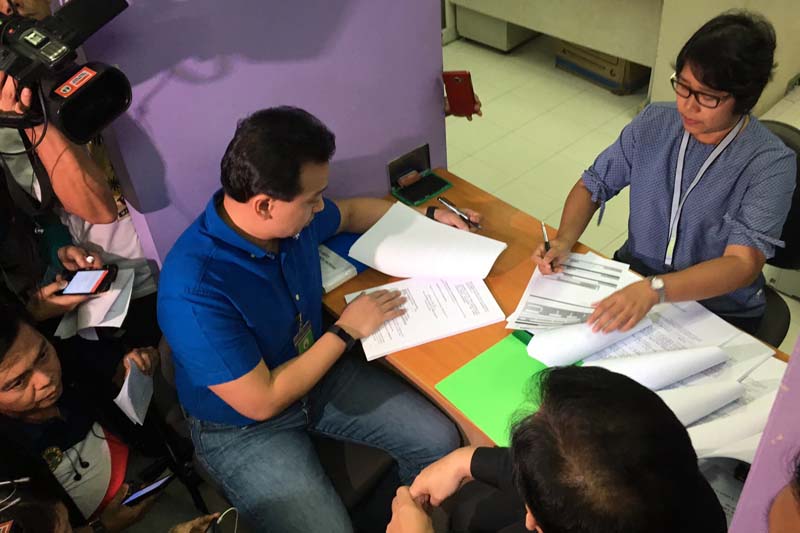 MANILA, Philippines — (Updated 1:12 p.m.) Sen. Antonio Trillanes IV on Friday filed a complaint against Presidential Communications Assistant Secretary Margaux "Mocha" Uson at the Office of the Ombudsman.
Trillanes was accompanied by his lawyer Reynaldo Robles.
Magdalo party-list Rep. Gary Alejano was also at the Office of the Ombudsman to show his support for Trillanes.
Trillanes earlier threatened to sue Uson, along with broadcast journalist Erwin Tulfo and CNN Philippines contributor Ben Tesiorna for libel after releasing allegedly false information about his purported foreign bank accounts.
Trillanes' complaint vs Uson includes libel under the Cyber Crime Prevention Act, graft & violation of Code of Conduct @PhilippineStar

— Elizabeth T. Marcelo (@marcelo_beth) September 22, 2017
Among the charges are libel, graft and violation of the code of conduct of public officials.
The complaint stems from Uson's publication on her Mocha Uson Blog Facebook page of "images and links of and links to what appears to be a number of uniform computer printed documents purportedly being offered to prove that the undersigned had numerous bank accounts in foreign banks, which purportedly constitutes his 'tagong yaman' (hidden wealth)."
Trillanes also accused Uson of falsification and/or use of falsified documents, violation of the Anti-Graft and Corrupt Practices Act and violation of Code of Ethics and Ethical Standards for Public Officials and Employees.
He also accused assistant secretary who is ostensibly in charge of the Presidential Communications and Operations Office's Social Media Office of grave misconduct for performing in casinos despite a ban on government employees even entering them.
"Hindi na pupuwede yung fake news. The era of fake news is over," Trillanes has said at a press briefing at the Senate.
Aside from Uson, Tulfo and Tesiorna, President Rodrigo Duterte has accused Trillanes of having secret offshore accounts.
President Rodrigo Duterte said he has proof that Trillanes stashed funds in various offshore banks.
Trillanes went to Singapore on Tuesday to verify with banks there whether accounts he has been accused of owning actually exist.
Trillanes first visited the Development Bank of Singapore (DBS Bank) and inquired about account number 1178000281602, which allegedly had a balance of S$193,850 or P7.3 million as of Aug. 30 this year.
Complaint vs Uson is in connection w/ her publication of supposed fake bank accounts of Trillanes @PhilippineStar

— Elizabeth T. Marcelo (@marcelo_beth) September 22, 2017
It turned out to be a non-existent bank account.
Duterte, also on Tuesday, admitted that he lied when he mentioned bank account numbers in a speech last week. He said he did that to trap Trillanes.
READ: Trillanes: Account numbers checked at DBS Bank came from Duterte, Tulfo
Trillanes also went to the Raffles City Tower where the Hongkong Shanghai Bank is supposedly located, based on the documents being spread in social media, to check if account number 0016729915127 with a balance of S$278,300 or P10.5 million exists as alleged by supposed bank documents shared by Duterte's supporters.
Hongkong Shanghai Bank does not have an office there.
"So this means the two accounts here in Singapore are fake and this means everything else is fake. These were fabricated and invented by them," he said.
Uson, a vocal supporter of the president, maintains a blog that has millions of followers. She has been accused of spreading disinformation to her followers.
Last month, the hashtag #FireMocha became a trending topic after the blogger turned government official demanded opposition leaders to visit the wake of a cop who, as it turned out, died a year ago.
Uson was also slammed for a Facebook post where she cited Article 263 of the Philippine Constitution related to a tax evasion news story. The Philippine Constitution only has 18 articles.
'Bait'
But Duterte said on Tuesday that he gave the wrong account number of Trillanes in Singapore to use as a "bait" to show how his fierce critic has been lying about his clandestine money.
Duterte said he intentionally read the wrong account number, 1178000291602, during a recent public interview to "fool" the senator. Instead of "8," he changed it to "9."
READ: Duterte admits 'inventing' alleged Trillanes account number
"Binasa ko, binawasan ko ng number—wala ito, imbento lang. You know, when you lie, you put another lie to cover this lie… To cover this lie, patong-patong na 'yan," Duterte said.
The chief executive laughed at Trillanes for falling into the trap and going to Singapore "out of a desperate attempt" to disprove his claims.
Asked to comment on the lie, Presidential Spokesman Ernesto Abella said the president has his own logic and has unorthodox approaches to issues. — with reports by Elizabeth Marcelo