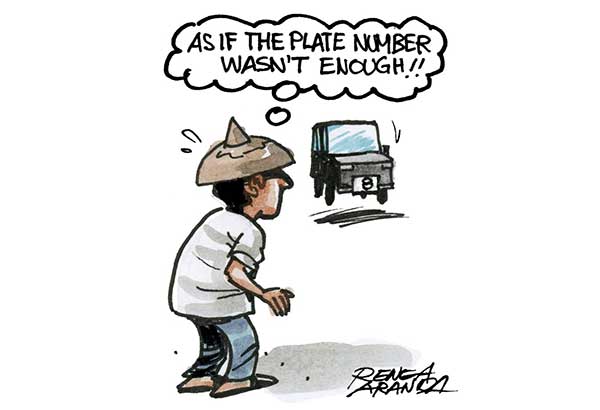 Traffic constables generally do not arrest motorists for minor violations and instead issue tickets. The STAR/Rene Aranda
Other people get stuck in traffic too, Fariñas told
(philstar.com) - September 19, 2017 - 2:33am
MANILA, Philippines — (Updated 11:41 a.m.) Lawmakers should be examples of following the law, Bayan Muna party-list Rep. Carlos Zarate said Tuesday in response to a House leader arguing members of Congress have immunity from apprehension for traffic violations.
"Dapat ay ay maging huwaran ang mga mambabatas para tuparin ang mga ito," Zarate said in a statement.
"Mga simpleng empleyado, kawani o maging mga mambabatas o matataas na opisyal ay lahat apektado talaga sa malalang traffic," he also said.
On Monday, House Majority Leader Rodolfo Fariñas, Ilocos Norte Representatives, reminded the Metropolitan Manila Development Authority to refrain from apprehending them for minor traffic violations.
"A senator or member of the House of Representatives shall, in all offenses punishable by not more than six years imprisonment, be privileged from arrest while Congress is in session. No member shall be questioned nor be held liable in any other place for any speech or debate in Congress or in any committee thereof," Fariñas told MMDA officials in at an inter-agency transportation briefing at the House on Monday afternoon.
He said that being detained would prevent legislators from doing their jobs and would make them miss plenary sessions, which start at 4 p.m.
The Senate website says members of Congress enjoy privilege from arrest.
"This privilege is intended to insure representation of the constituents by the members of Congress," it reads.
It cites a case, Vera vs. Avelino, that held that the privilege is not meant to protect lawmakers "against prosecutors for their own benefit" but to make sure they are able to do the work that their constituents elected them into office to do.
Traffic constables generally do not arrest motorists for minor violations and instead issue tickets.
Zarate, who is part of the Makabayan bloc of lawmakers that left the supermajority bloc last week, disagrees with Fariñas.
"Lalo nitong patitingkarin na may ibang batas para sa may kapangyarihan at sa karaniwang tao," he said of the immunity.
Zarate said that lawmakers are not the only people with important tasks and who have to endure traffic in Metro Manila.
Ifugao Rep. Teddy Baguilat Jr., a critic of the Duterte administration, declined comment on whether parliamentary immunity legally applies to traffic citations, but said "I would like to believe that invoking immunity for traffic violations or accountability during traffic accidents will be wrong."