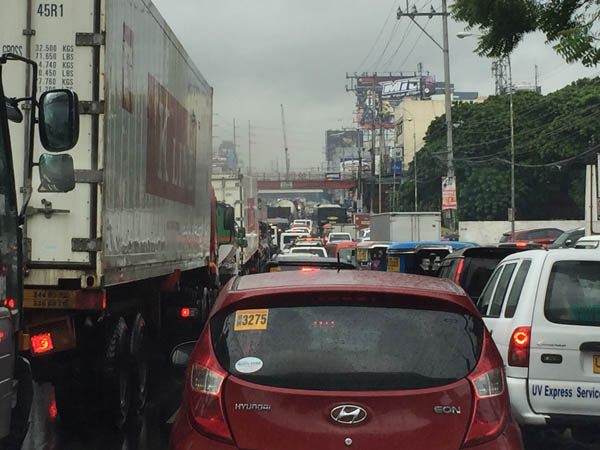 Road constuction along Ortigas Avenue Extension has caused a "traffic brawl" and a commuting nightmare for commuters and motorists from Rizal. STAR/File photo
Road works turn Ortigas Avenue Extension into another EDSA
(philstar.com) - September 18, 2017 - 5:55am
MANLA, Philippines – "Ortigas Avenue Extension makes EDSA look like an expressway," Marlon Castillo said in a Facebook post a little before 6 a.m. on Monday.
Traffic had been at a standstill even before 6 a.m., Castillo added in his post.
Like Castillo, Patricia Co and Don Joseph Sebastian also experienced the traffic jam at Ortigas Avenue Extension on Monday. They have all been taking the same route to get to work for years, but the traffic near Cainta Junction induces a new level of dread for commuters and motorists of late.
Road construction in front of SM East Ortigas in Pasig City started two weekends ago, resulting in what Cainta Mayor Kit Nieto calls a "traffic brawl."
Commuters and motorists from Antipolo and towns in Rizal pass through Ortigas Avenue Extension to reach Ortigas, Makati and Taguig.
'Walking would be faster'
For Co, who has been commuting to work in Ortigas for seven years, this has been one of the worst traffic jams she has experienced. A few years ago, Co said, it took 45 minutes for her to get to work, but road construction along the way has "doubled to tripled" her travel time.
Co said that she left her house at 5:30 a.m. on Monday to get to work in Ortigas by 8 AM She arrived at the shuttle van terminal at 6 a.m., but it took her another 45 minutes to get a ride to Ortigas CBD.
"Almost 2 hours from Cainta to Ortigas, eh 10 kilometers lang yun," she said. She got to work at 8:40 a.m.
Castillo, who also works in Ortigas but comes from Taytay, Rizal, shared the same frustrations at the worsening traffic conditions in the area.

"In 2010, I could leave Taytay, Rizal at 6:30 a.m. and arrive at Eastwood before 8 a.m. by commute," Castillo said. "Average travel time Taytay to Ortigas [was] one and a half hours if you leave after 6 a.m. But now, 2.5 hours if you leave after 6 a.m."
Castillo reports to work in Ortigas at 8 a.m. On Monday, he left at 5:40 a.m. and clocked in at work at 7:40 a.m.
"Mas mabilis pa maglakad, pero may dignidad pa kasi ako kaya sumakay pa rin ako," he said. Assuming an average walking speed of 5 kph, Castillo is not exaggerating.
Sebastian works in Marikina but had a 10 a.m. meeting in Kapitolyo, Pasig.
He said that he allotted 1.5 hours for the traffic, so he left his house in Taytay at 8 a.m. but was still 20 minutes late for the meeting.
He also lamented that the worsening road condition also adds to the traffic. "Hassle yung kahit madaling araw, mabagal pa din mga sasakyan kasi ang ganda ng road condition. Kailangan i-appreciate ng dahan-dahan," he said with evident sarcasm.
"Passable lahat kung off-road sasakyan mo. Yung matalbog, mapapa-aray ka para sa sasakyan mo," Sebastian said.
'Ortigas now like EDSA'
Commuters have also taken to comparing congestion on Ortigas Avenue Extension to the famed EDSA traffic, which has become a go-to explanation for tardiness in recent years.
Cainta Mayor Kit Nieto said that the municipality is aware of the "traffic brawl" on Ortigas Avenue Extension. He said that the ongoing road construction is a project of the Department of Public Works and Highways – National Capital Region (NCR).
"There has been a number of complaints of unfinished asphalt work on the road months back. There was clamor from people months back," Nieto told Philstar.com on the phone.
Recognizing that the road construction affects Cainta residents, Nieto said that he has already sent the Cainta traffic management team to meet with the DPWH.
"They cannot provide us with a timeline," Nieto said, adding that Cainta is not part of the National Capital Region.
However, he said that he understands the plight of commuters and said that they are always welcome to pass through Cainta town proper route to get to Floodway in Pasig to avoid the traffic that eats up hours and can ruin a commuter's or motorist's day.