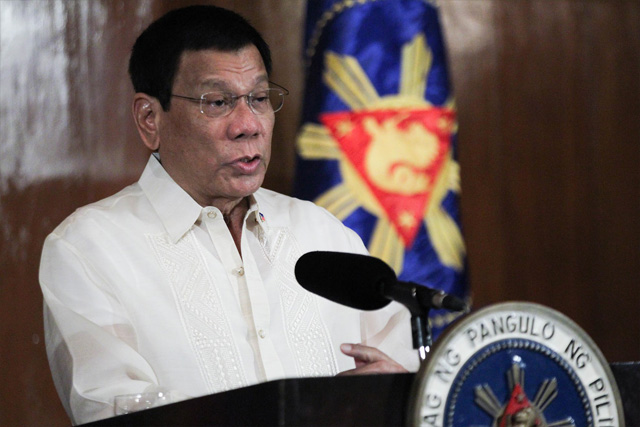 Although September 21 is not declared a holiday, President Rodrigo Duterte encouraged government employees who would want to participate in protests to do so. PND/Toto Lozano
Duterte: September 21 not a holiday, but a day of protest
(philstar.com) - September 18, 2017 - 9:38am
MANILA, Philippines — President Rodrigo Duterte on Monday declared September 21 as a national day of protest, not a holiday.
"September 21 is not a holiday. I have declared it as a day of protest. Lahat ng gustong mag-protesta laban sa gobyerno," Duterte said during the wake of SPO3 Jun Hilario in Caloocan City.
READ: Duterte may suspend work, classes on Martial Law anniversary
"Walang trabaho at kung gusto ng taga-gobyerno 'yung mga union dyan, they should participate. Sabi kasi ng military, red army come down here. I will not arrest you but do not commit crimes, no vandalism," he added.
Although September 21 is not declared a holiday, Duterte encouraged government employees who would want to participate in protests to do so.
Various groups, led by the Movement Against Tyranny, announced they would stage massive demonstrations at Quirino Grandstand on that day to condemn killings and abuses related to the administration's war on drugs and alleged plans to declare martial law nationwide.
READ: Lorenzana: Chance of nationwide martial law 'very remote'
September 21 is commonly acknowledged as the anniversary of late dictator Ferdinand Marcos' martial law declaration.
Proclamation 1081, the declaration of martial law, was actually announced on Sept. 23, 1972 but was backdated to September 21 because of numerology.
READ: Historical revisionism legitimized? NHCP issues marker for Marcos monument
Last week, Duterte hinted that he might suspend government work and classes in Metro Manila.
"At this early, I am announcing that I am ordering a holiday para walang masaktan, walang ano kung may demonstration diyan, magkagulo," Duterte said.
Martial law is a very sensitive topic in the country after Marcos, whose presidency was tainted by human rights abuses and billions of dollars in ill-gotten wealth, enforced it to prolong his stay in power.
Duterte, an ally of the Marcoses, granted the wish of the family to bury the dictator's remains at the Libingan ng mga Bayani in a surprise ceremony last year.
He also declared September 11 a special non-working day in Ilocos Norte upon the family's request to mark the ex-leader's 100th birthday anniversary.
READ: Ateneo group puts forward own version of Marcos marker