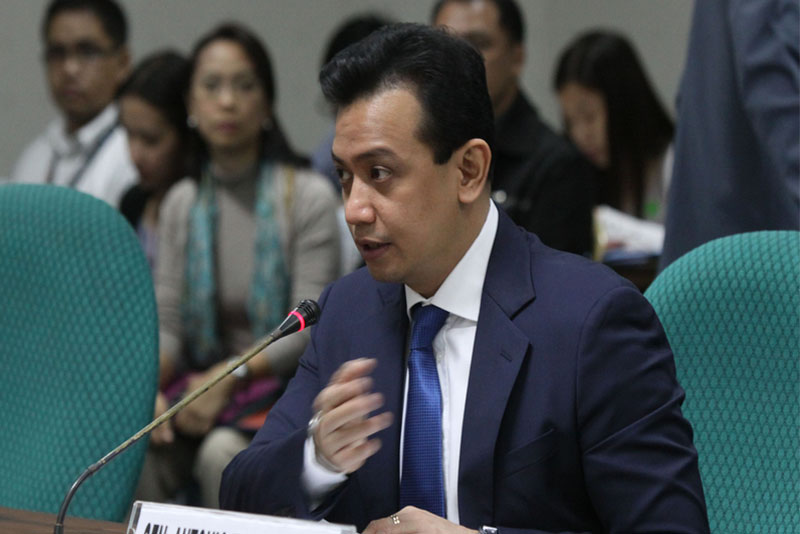 During the hearing on the proposed P195.47-billion budget of the Department of National Defense (DND) at the Senate, Sen. Antonio Trillanes IV said he could not agree with the proposed P500-million increase in the intelligence fund of the PNP, which would just go to the anti-illegal drugs campaign more commonly known as "Tokhang." Sen. Antonio Trillanes IV/Released, File
Trillanes wants PNP intel funds realigned to AFP
Marvin Sy
(The Philippine Star) - September 14, 2017 - 4:00pm
MANILA, Philippines — Sen. Antonio Trillanes IV yesterday vowed to push for the realignment of intelligence funds from the proposed 2018 budget of the Philippine National Police (PNP) to the Armed Forces of the Philippines (AFP).
During the hearing on the proposed P195.47-billion budget of the Department of National Defense (DND) at the Senate, Trillanes said he could not agree with the proposed P500-million increase in the intelligence fund of the PNP, which would just go to the anti-illegal drugs campaign more commonly known as "Tokhang."
Trillanes noted the DND would be getting a mere P220-million increase in its intelligence fund for 2018 even though it has greater need for this because of the ongoing security threats in Mindanao and other parts of the country.
"Why aren't we maximizing this? Because in comparison, the PNP will be getting a P500-million increase and for sure this will go to Tokhang. We wouldn't want that," Trillanes said.
He pointed out the major services of the AFP did not request for an increase in its intelligence funds, except for the Navy, which asked for another P5 million.
Defense Secretary Delfin Lorenzana said the Army, Air Force, Navy, Presidential Security Group and Intelligence Service of the AFP asked for what they needed and it was already enough.
He said the Navy asked for more funds because they would like to improve their capacity for anti-piracy and maritime intelligence gathering.
Trillanes said the intelligence fund given to the AFP was too small so he intends to augment this by realigning part of what the PNP would be getting under its budget.
"From my perspective, it is as if you are giving more importance to Tokhang with P500 million in intel funds than for the armed forces as a whole, it will get a mere P220-million increase," he said.
Lorenzana admitted the DND actually sought for P280 million more for its intelligence funds but the Department of Budget and Management (DBM) disapproved it.
"That is unfortunate. But we will try to rectify that situation so that we would prioritize the important national security concerns," Trillanes said.
The DND including the AFP would be getting close to P1.6 billion in intelligence funds for 2018.
Lorenzana said this was what was approved by the DBM so "we can live with it."