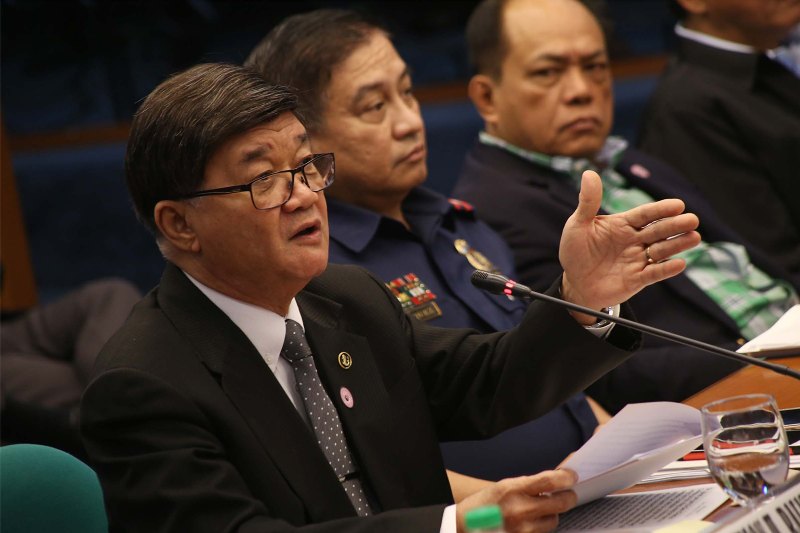 Justice Secretary Vitaliano Aguirre II said the NBI would look into this angle in its ongoing investigations on the killings of Kian Loyd delos Santos, Carl Angelo Arnaiz and Reynaldo de Guzman alias "Kulot." PNA/Avito C. Dalan, File
NBI probes 'sabotage' in teen slays
Edu Punay
(The Philippine Star) - September 10, 2017 - 4:00pm
MANILA, Philippines — Justice Secretary Vitaliano Aguirre II has ordered the National Bureau of Investigation (NBI) to look into the possibility that the recent spate of killings of male teenagers was perpetrated to sabotage the Duterte administration's war on drugs.
Aguirre said the NBI would look into this angle in its ongoing investigations on the killings of Kian Loyd delos Santos, Carl Angelo Arnaiz and Reynaldo de Guzman alias "Kulot."
"We have to determine if there are motives other than the killing of these teenagers because we can see a trend that is targeting teenagers. This has not happened before when the war on drugs started," he explained in an interview yesterday.
Aguirre shared President Duterte's observation that there seems to be a deliberate effort to sabotage and discredit the war on drugs.
"This appears to me as an effort to ultimately destroy our police force and, of course, the President," the justice secretary stressed.
Public Attorney's Office (PAO) chief Persida Rueda-Acosta, who is providing legal assistance to the parents of the three slain teenagers, shared Aguirre's opinion.
"It's obvious already that there's an agenda in these killings. They are sacrificing teenagers to pursue their agenda. How could they stand doing that?" she lamented in an interview.
In a speech last Friday, Duterte suggested that the killings of Delos Santos, Arnaiz and De Guzman were meant to sabotage the Philippine National Police (PNP) and its war on drugs.
The President also ordered the PNP leadership to investigate who could be behind such plot, which he attributed to narco-politicians and drug lords.
Meanwhile, Aguirre announced that the parents of Arnaiz – who, Duterte said, was his relative from Maasin City in Southern Leyte – have been placed under coverage of the witness protection program.
The parents of Delos Santos have already been provisionally covered by the witness protection program earlier while Aguirre has also offered WPP to the parents of De Guzman.
For her part, Acosta said her office is readying murder and torture charges against Caloocan policemen behind the killings of Arnaiz and De Guzman, who were together when they went missing last Aug. 17 reportedly after being arrested for robbing a taxi driver.
The PAO chief bared that they were able to find a key witness to support the criminal complaint.
"This witness gave us very important information on what really happened to Carl and Kulot. So, together with the testimonial evidence and physicial evidence like forensic tests, we find basis to pursue murder and torture charges against these policemen," she revealed.
De Guzman and Arnaiz were last seen while buying snacks in a convenience store near their residences in Cainta, Rizal.
Arnaiz was found dead with five gunshot wounds and bruises in Caloocan 10 days after they went missing, while De Guzman's body was found in Nueva Ecija last week with 30 stab wounds and his head wrapped in packing tape.
Delos Santos, on the other hand, was killed by the police during an anti-narcotics operations in Caloocan City last Aug. 16.
Earlier, the parents of Delos Santos filed murder and torture charges before the DOJ against four Caloocan policemen involved in their son's killing: Chief Inspector Amor Cerillo, Police Officer 3 Arnel Oares and Police Officers 1 Jeremiah Pereda and Jerwin Cruz of Caloocan City police station 7.
The DOJ panel of prosecutors has summoned the policemen and set preliminary investigation hearings on Sept. 14 and 21.
Leni doubtful
Meanwhile, Vice President Leni Robredo yesterday expressed doubt over Duterte's claims of sabotage following the spate of teen killings.
"Who will sabotage it? Who has the capacity to do that? Who has the capacity to kill?" Robredo said in BISErbisyong Leni, her weekly radio program over dzXL.
The Vice President reiterated her appeal to the government to reconsider its approach on the country's drug problem.
"We have already expressed our dismay over the administration's strategy to combat drugs," she said, noting that other countries that used similar approach failed to address the drug menace.
"That's always our appeal to the government: put an end to the killings," she said.
Robredo also called on members of the PNP to help save the integrity of the institution amid controversies over the administration's anti-illegal drug campaign.
She said she believes there are more good policemen than bad ones.
Her late husband, Jesse Robredo, had introduced reforms for the benefit of the policemen during his stint as interior and local government secretary. – With Helen Flores