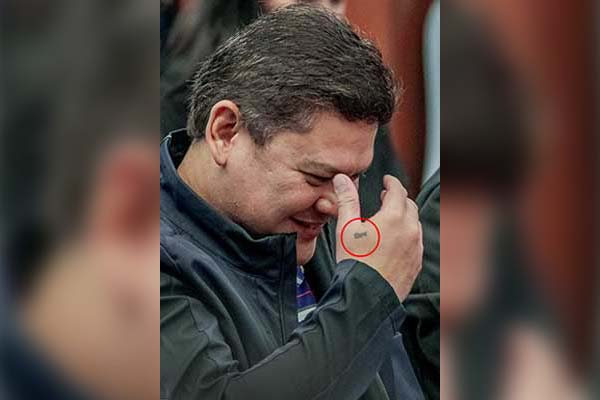 Photo shows the Davao vice mayor, who refused to reveal details about the tattoo on his back. He does, however, sport a small tattoo on his right hand (encircled). The 'MG' tattoo, which stands for the 'Magic Group' of the Guardians Brotherhood, is also sported by President Duterte. GEREMY PINTOLO
Triad tattoo? Rody son invokes privacy
(The Philippine Star) - September 7, 2017 - 4:00pm
Paolo denies links to drug smuggling
MANILA, Philippines — It would have set the record straight regarding his alleged drug links, but baring a tattoo on his back to a Senate panel as suggested by Sen. Antonio Trillanes IV would be a violation of his privacy, Davao City Vice Mayor Paolo Duterte said yesterday.
At the resumption of the Senate Blue Ribbon committee hearing on smuggling at the Bureau of Customs (BOC), Trillanes dared Duterte to prove to the panel that he does not have a Chinese triad tattoo.
While admitting he has a tattoo on his back, a visibly exasperated Duterte did not take Trillanes' challenge that he show it to the panel – not even in an executive session.
"I invoke my right to privacy," the vice mayor said, stressing he would not answer allegations based on hearsay.
Despite Duterte's general unresponsiveness during the hearing, Trillanes expressed belief he was able to prove the vice mayor's links to the notorious Chinese triad as well as his family's involvement in drugs and smuggling activities in the country. Triad members are known for their color coded tattoo of a dragon on their back.
Trillanes admitted he personally is not aware if Duterte really has a triad tattoo on his back and that he derived such unverified information from a foreign source.
"It (intelligence report) says that Vice Mayor Paolo Duterte is a member of the triad and the proof of his membership is the tattoo on his back," Trillanes said.
"That (tattoo) will explain everything and there's competition among drug syndicates," he said.
"That is the membership (requirement). If you are a triad member, you have a tattoo on your back. And if you are a member of the triad, you are involved in all criminal activities," the senator said.
Reacting to these allegations, Duterte was seen sighing and shaking his head.
According to Trillanes, he was able to show that illegal drugs, including cocaine, were able to enter Davao City over the years despite claims by President Duterte that he knew all the goings-on in the city when he was still mayor and that he would never tolerate the use of and trading in drugs.
This was belied by Trillanes. In December 2009, the senator noted that 16 kilograms of cocaine were seized at the Davao City wharf.
Five years later, on March 24, Trillanes said that P126 million worth of high-grade cocaine bars were discovered inside a container van at a shipyard in Davao.
A few days after the discovery, Trillanes said more bundles of cocaine were recovered from the same shipyard.
The following month, he said another P4.2 million worth of cocaine was seized from alleged drug pushers in Davao City.
"Duterte has been bragging that he is the king of Davao and that nothing happens in Davao without him knowing about it. So if you are a drug lord, would you even use Davao City as your transshipment point?" Trillanes said.
Trillanes said the truth is Duterte did nothing to address the entry of illegal drugs into Davao City.
"I've shown the links and it's very clear. There is a track record. Paolo Duterte was involved in smuggling before. So now with his links to the triad, that's the final piece of the puzzle. That's why the Philippines is being used as a transshipment port of illegal drugs because Paolo Duterte is a member of the triad," he said.
Trillanes also said that he was able to show at yesterday's hearing that the younger Duterte is connected to all of the players in the BOC who facilitated the release of more than P6 billion worth of shabu shipment from China.
Basis sought
Sen. Richard Gordon, chairman of the committee, asked Trillanes to make sure his allegations have basis.
"The chair would like to request respectfully that we should not make allegations here without any basis because triad is a very serious allegation and we should not abuse any of the witnesses here," Gordon said.
Sen. Panfilo Lacson, for his part, asked Trillanes to disclose details of his information as well as his source, to which the latter said he would do so in a closed-door session with senators.
When later asked by reporters if he had any picture of the tattoo, Trillanes said it could be looked up in "Google."
The young Duterte and presidential son-in-law Manases Carpio attended the hearing after Trillanes had them summoned over his allegations that they were leaders of the so-called Davao group that facilitates smuggling at the BOC.
Carpio is the husband of Davao City Mayor Sara Duterte-Carpio.
Broker Mark Taguba earlier testified before the panel that he had his shipments facilitated through the BOC with the help of some individuals who identified themselves as representing the Davao group.
The broker last week, however, denied tagging Duterte and Carpio in smuggling activities.
The National Bureau of Investigation earlier tagged Taguba and several other individuals in drug trafficking. Also charged were Chinese businessmen Richard Chen, Kenneth Dong, Manny Li and other local brokers.
The drugs were recovered from two warehouses in Valenzuela City by members of the Customs Intelligence and Investigation Service last May 26 following a tip from authorities in Xiamen, China where the shabu shipment had originated.
During the hearing, Trillanes presented photos taken from social media of Dong and the younger Duterte together to point out their links.
The senator also showed the panel photos of the vice mayor with businessman Charlie Tan. He also presented a picture of Tan with the President at Malacañang.
Tan, the senator pointed out, was among those mentioned by Lacson as being engaged in smuggling. Trillanes also cited reports on Tan's involvement in drug trafficking.
To further press his point, Trillanes presented bank records in 2015 showing that Duterte and Carpio had hundreds of millions of pesos in their accounts.
Rainier Madrid, Duterte's legal counsel, said his client was close to giving in to Trillanes' demand to show his tattoo but he advised him against it.
"I thought it would be explosive show of witnesses… Where are they? He only presented the body he wanted to see. Is he gay?" Madrid told reporters.
Trillanes only wanted to make a spectacle, Madrid said, adding he did not want his client to be humiliated.
Madrid said Duterte has no regrets and has no plans at the moment to get back legally at Trillanes.