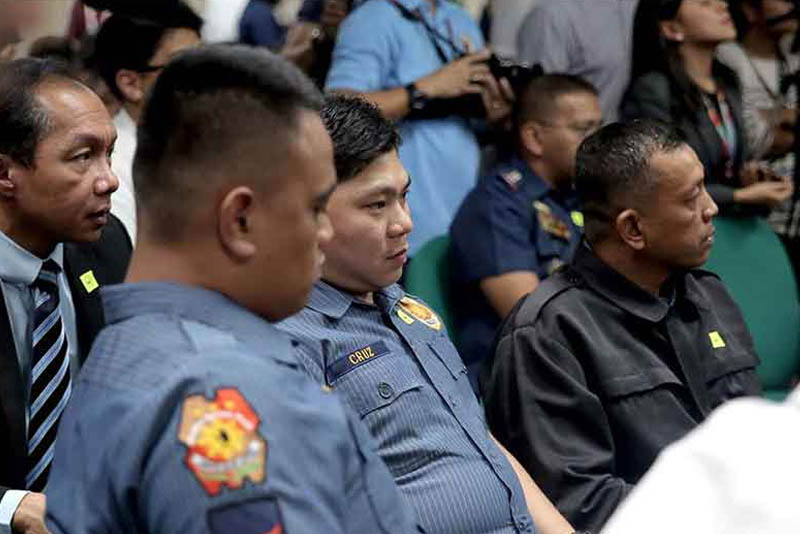 Police Officer 1 Jeremiah Pereda, PO1 Jerwin Cruz and PO3 Arnel Oares, who conducted an anti-drug operation that resulted in the killing of Kian Loyd delos Santos, attend the Senate hearing on Thursday. Senate PRIB
Murder, torture raps filed vs cops in Kian case
MANILA, Philippines — The Public Attorney's Office is set to file two cases against the three policemen involved in the killing of teenage student Kian Loyd delos Santos during an anti-drugs operation last week.
Chief public attorney Persida Acosta on Friday said that her office will file charges of murder and violation of the Anti-torture Act of 2009 against PO3 Arnel Oares, PO1 Jerwin Cruz and PO1 Jeremiah Pereda before the Department of Justice.
"We are now proceeding with some of our witnesses so that they can attest to the prosecutors the affidavit that they had executed," Acosta said in a telephone interview with ANC.
Acosta noted that the element of abuse of strength was present as the victim was already kneeling down when the police shot him.
"This is cold-blooded murder because Kian has already kneeled down and then he was shot while kneeling down," she said.
READ: Expert: Kian kneeling when shot by cops
She added that there was torture leading to death and inflicting physical, emotional and psychological injuries to a minor.
Acosta assured the public that her office is only doing its mandate upon filing the cases against the three policemen.
"The PAO is just doing it's job. They are not involved in any partisan or political interest. We are here for truth and justice for Kian and for the Filipino people," Acosta said.
The three policemen accused of killing Delos Santos refused to answer questions from senators and invoked their right against self-incrimination during a Senate hearing last Thursday.
RELATED: Kian's alleged drug activities 'validated' through social media posts