Duterte requested fist-pump pose, says Australia's top diplomat
August 25, 2017 | 12:37am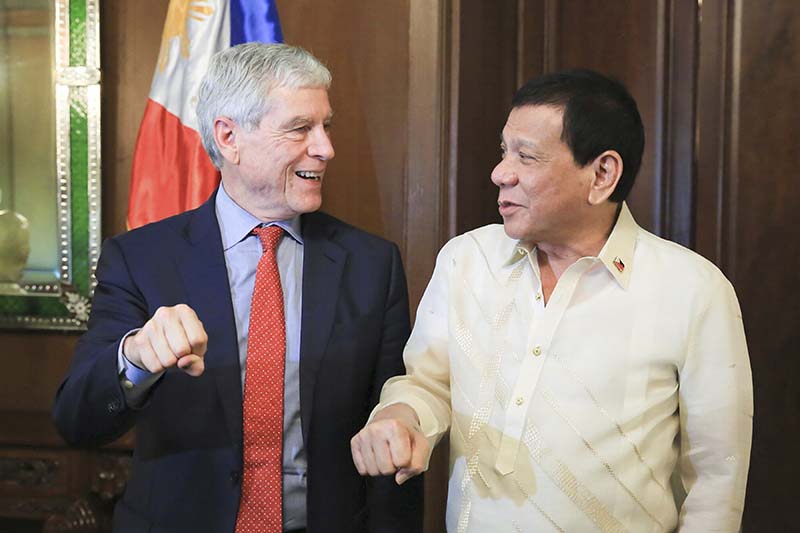 CANBERRA, Australia — A photograph showing the head of Australia's international spy agency, Nick Warner, in a fist-pumping pose with the president of the Philippines was not Warner's idea, Foreign Minister Julie Bishop said Thursday.
Bishop told reporters in Perth that Warner was "responding to a request from the president of the Philippines" when the photograph was taken at Manila's presidential palace on Tuesday. The photo shows Warner and Philippine President Rodrigo Duterte facing the camera, both making Duterte's signature fist-pump hand gesture.
The photo has been criticized for suggesting support for Duterte, whose war on illegal drugs has resulted in the deaths of thousands of suspects, including more than 3,200 gunned down by police.
"I am not aware of the specific circumstances as to how (the photo) came about. But I am confident that it was not the director-general's idea," Bishop said.
Warner is director-general of the Australian Secret Intelligence Service.
Michael Hayworth, manager of campaigns for Amnesty International Australia, said Australia should clearly and publicly condemn the use of street executions in Duterte's anti-drug campaign.
"The Australian government should carefully scrutinize any cooperation with the Philippines to make sure our country does not unknowingly contribute to the bloodshed and abuse that has become a hallmark of the Duterte regime," he said in a statement.
Bishop said she has met with Duterte twice and both times raised the issue of human rights and extrajudicial killings.