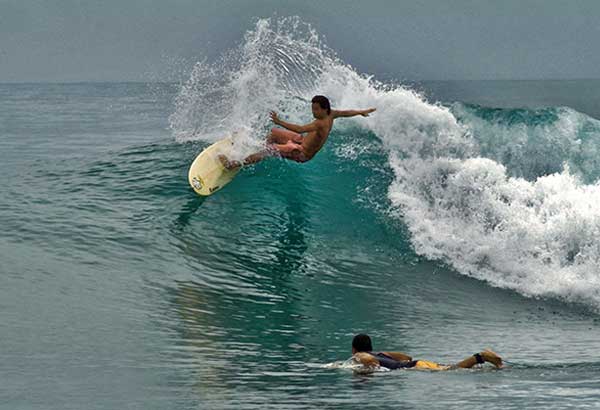 SURF'S UP: An enthusiast enjoys surfing in the waters off Siargao Island. International travel magazine Conde Nast recently picked Siargao as one of the world's top surfing destinations. GEORGE TAPAN
Siargao among world's top surfing spots
MANILA, Philippines - Siargao has been named as one of the best surfing spots in the world, according to an international travel magazine.
Conde Nast Traveler ranked Cloud Nine in Siargao Island as the fifth best surfing spot in the world, due to its thick hollow tube waves.
"While certainly not the only must-catch wave in the area, surfers have been chasing down Cloud Nine's thick walls since the 1980s," Conde Nast Traveler said.
The travel magazine also cited Jacking Horse located in the same island as an alternative surfing destination, which is approximately 330 yards away.
Jacking Horse also offers a less crowded area, as Cloud Nine's popularity continues to attract surfers from all over the world.
Cloud Nine joins the roster of world-class surfing destinations such as Bondi Beach in Sydney, Australia; Les Cavaliers in Anglet, France; and Huntington Beach and Mavericks Beach both in California, which made it to the top five of Conde Nast Traveler's best surfing destinations.
Also on the list are Nazare in Portugal; Playa Grande in Costa Rica, Pipeline, Oahu in Hawaii; Jeffreys Bay in South Africa; and Tofino, Vancouver Island in Canada.
Siargao is composed of 48 islands and islets, which are divided into nine municipalities particularly, Burgos, Dapa, Del Carmen, General Luna, Pilar, San Benito, San Isidro, Santa Monica and Socorro. It is located in the province of Surigao del Norte in Mindanao.
Department of Tourism Assistant Secretary for Office of Public Affairs, Communications and Special Projects and spokesperson Frederick Alegre earlier identified Siargao as a destination that Mindanao has to offer.
"We know that Siargao is becoming a favorite destination, now with the daily flights to Siargao," Alegre said.
Alegre said while the conflict in Mindanao is only in Marawi City, the region still has other areas to offer tourists such as Siargao and Davao.
Officials of Surigao del Norte assured tourists that it is safe to visit Siargao despite the declaration of martial law in Mindanao, according to earlier reports.