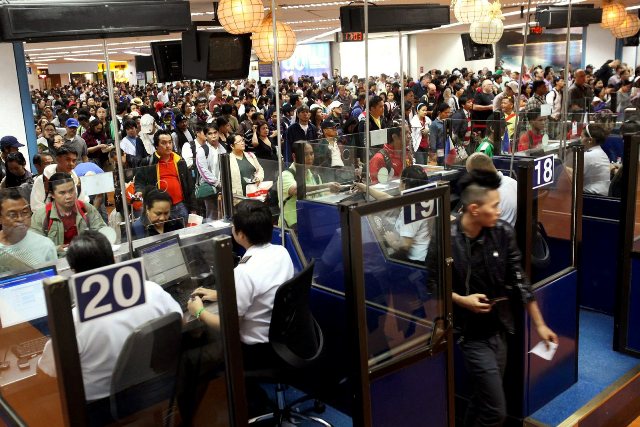 The Bureau of Immigration on Thursday announced that it would issue visa upon arrival to Chinese Nationals as part of its drive to draw more tourists and investors to the country. File photo
Immigration to grant visa upon arrival to qualified Chinese nationals
(philstar.com) - August 17, 2017 - 7:50am
MANILA, Philippines — The Bureau of Immigration on Thursday announced that it will issue visas upon arrival to qualified Chinese nationals as part of its drive to draw more tourists and investors to the country.
It said it wants to attract more arrivals from "the world's most populous nation and fastest growing economy."
"Through this scheme, we aim to facilitate the expeditious entry and admission of Chinese nationals into the country and thus attract more tourists and investors from China," BI Commissioner Jaime Morente said in a press statement.
Morente said Justice Secretary Vitaliano Aguirre II issued Department Circular 041 granting the issuance of landed visa, or the visa upon arrival, to Chinese nationals.
The program applies to:
Chinese nationals who are members of tour groups organized by Tourism department-accredited tour operators
Investors endorsed by local and foreign chambers of commerce, the Board of Investment, Philippine Chamber of Commerce and Industry or the Philippine Retirement Authority
Athletes and delegates to sports competitions
Delegates to conventions, exhibitions and symposia
The applicants should have valid passports and return tickets.
Chinese visitors on the Immigration's blacklist or who are subject of an Interpol red notice are barred from availing of the program.
The bureau will charge applicants a fee of $25 for the visa and P10 as legal research fee.
These applications should be filed at least 10 working days before they arrive in the Philippines.
"If the applicants are qualified, the BI commissioner shall issue an order approving the VUA and the same shall be presented by the Chinese passengers to Immigration officers upon their arrival in the country," BI said in its release.
The BI added that copies of the approval order will be sent to the BI Port Operations Division, whose immigration officers shall implement the visa on the travel documents of the Chinese passengers when they are admitted into the country.
Visas upon arrival are for an initial authorized stay of 30 days but may be extend to a maximum period of six months.
BI's visa upon approval program will be implemented in the country's major international airports including Ninoy International Airport, Clark, Mactan-Cebu, and Kalibo. The BI will also apply the program in the following seaports, Puerto Princesa, Subic, Laoag, and Caticlan.
The Philippine Embassy in Beijing and all Philippine Consulates General in China promoted a similar program for a shorter period of stay in 2002, according t the embassy's website.
The BI said that program was discontinued and had a limited scope. — Rosette Adel