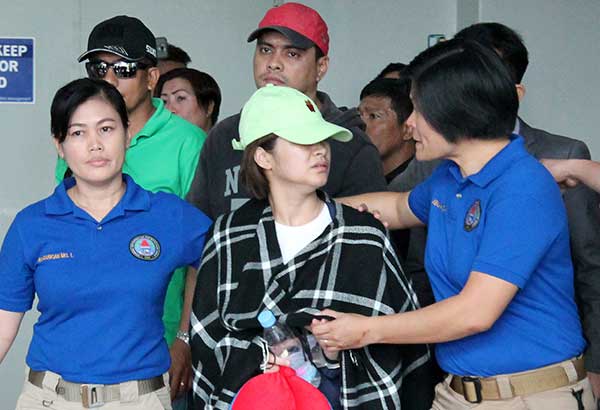 The Ozamiz Regional Trial Court yesterday denied the request for furlough of Ozamiz City Vice Mayor Nova Princess Parojinog-Echavez and her brother Reynaldo Parojinog Jr. to attend the wake and burial of their parents who were killed in a police raid last July 30. Edd Gumban/File
Parojinog siblings barred from attending parents' burial
MANILA, Philippines - The Ozamiz Regional Trial Court (RTC) yesterday denied the request for furlough of Ozamiz City Vice Mayor Nova Princess Parojinog-Echavez and her brother Reynaldo Parojinog Jr. to attend the wake and burial of their parents who were killed in a police raid last July 30.
Ozamiz RTC Branch 15 Executive Judge Edmundo Pintac cited safety and security of the siblings and their police escorts in denying the request. They are detained at the Philippine National Police (PNP) Custodial Center at Camp Crame in Quezon City.
"The court chooses the path of caution and gives greater weight to the assessment of the police, more especially that of the Ozamiz police, as heretofore narrated as it is in the better, if not best, position to the same, it being equipped with the necessary means and resources," Pintac said a three-page order.
While they commiserate with the Parojinogs, Pintac said emotions are still high between people who are sympathetic to the siblings and those who are against them.
"The court is overly concerned for good reason that the presence of the accused-movants would provide the spark that would cause these emotions to erupt and for the opposing sides to turn violent and clash against each other," he added.
The court also took into consideration a confidential report from Ozamiz police head Chief Insp. Jovie Espenido that supporters of the siblings would stage a "daring and bloody rescue" if they are allowed furlough.
The siblings filed a motion seeking furlough for them to be present on the last vigil on Aug. 13 and burial on Aug. 14 of their parents and relatives.
Ozamiz City mayor Reynaldo Parojinog Sr., his wife Susan, brother Octavio, sister Mona and other associates were killed in a police raid in the family compound last July 30 over alleged involvement in the drug trade.
The information officer of mayor Parojinog now fears for her life days after the raid.
Ellen Pelare, head of Parojinog's media bureau, said she filed a leave of absence for security reasons because Ozamiz police chief Espenido, the top cop behind the Parojinog raid, was blaming her for uploading a video showing Espenido allegedly maltreating a young detainee at the police station.
Pelare denied uploading the video.
Espenido stays
But Espenido will continue to stay as police chief of Ozamiz.
PNP chief Director General Ronald dela Rosa said that while he is inclined to transfer Espenido to another locality with persistent problems on illegal drugs, there are requests from residents of Ozamiz who want Espenido to remain as their police chief.
"They want their place safe, that is why they are opposing if Espenido will be transferred," he added.
President Duterte recently awarded Espenido for his contributions to the war against drugs.
Before being chief of Ozamiz City police, Espenido was police chief of Albuera, Leyte. Albuera mayor Rolando Espinosa, who was also accused of involvement in drugs, was killed by policemen while in prison.
PNP identifies Parojinog cops
Meanwhile, the PNP has identified the policemen who may have taken part in the killings of civilians on orders of the Parojinog clan in Ozamiz City, Dela Rosa said yesterday.
He declined to divulge the names of the policemen as intelligence operatives are still validating their alleged involvement with the Parojinog clan. – With Evelyn Macairan, Lino de la Cruz