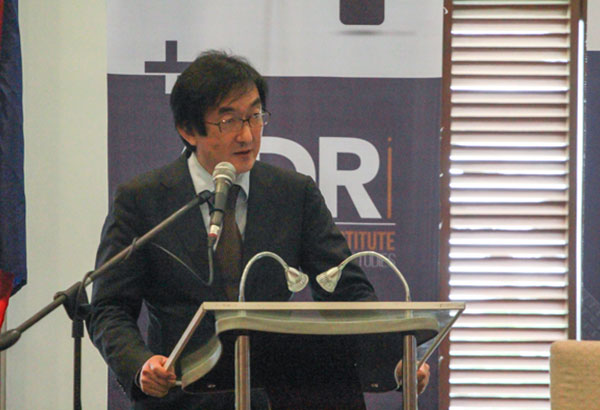 Koichi Ai, acting general of the Japan Institute of International Affairs, holds a talk during a forum on the anniversary of the South China Sea arbitration. Philstar.com/Efigenio Toledo IV
Think tank urges Philippines to challenge China's moves vs int'l order
(philstar.com) - July 13, 2017 - 6:47am
MANILA, Philippines — The Philippines should continue its business engagement with China but should also contest their stunts against international law, a Tokyo-based think tank said on Wednesday.
Koichi Ai, the Japan Institute of International Affairs acting director general, said the Philippines should continuously engage with China in the commercial and economic domain but at the same time should settle disputes by challenging their moves in opposition to the international order.
"We must make any attempt on their part costly enough for them to have second thought," Ai explained on Wednesday during the Stratbase ADR Institute forum.
The forum with its title "The Framework Code of Conduct, One Year After Arbitration" was held in light of the first anniversary of the arbitration case ruling in favor of the Philippines' territorial claim over South China Sea.
RELATED: Philippines can learn from Vietnam's foreign policy, says Golez
On July 12, 2016, the United Nations-backed arbitral tribunal based in the Hague, Netherlands invalidated China's nine-dash line claim over the disputed waters and ruled in favor of the Philippines' maritime claims in South China Sea.
China, however, contended that it has authority over the disputed waters.
As the country strengthens its diplomatic ties with China under the Duterte administration, the Philippines temporarily set aside the arbitral tribunal's verdict on the disputed waters.
The acting director general further emphasized that achieving the engagement is impossible without the collaborative effort involving both parties.
"Perhaps, or maybe perhaps not, no need for us to burn the bridge ourselves and make the problem more difficult than it really is," Ai said.
"It will also be characterized by an extended theoretical tense and precarious relations in the region," he added.
According to Ai, JIIA is currently conducting two projects for this year, one centering on maritime protection and rule of the law while the latter focusing on territory and sovereignty.
"While they have different focuses, these programs still address issues that have direct relevance to the present situation in the South China Sea. We remain committed to pursuing this issue," Ai said in his speech.
RELATED: Philippines urged to exhaust all diplomatic avenues to promote arbitral ruling