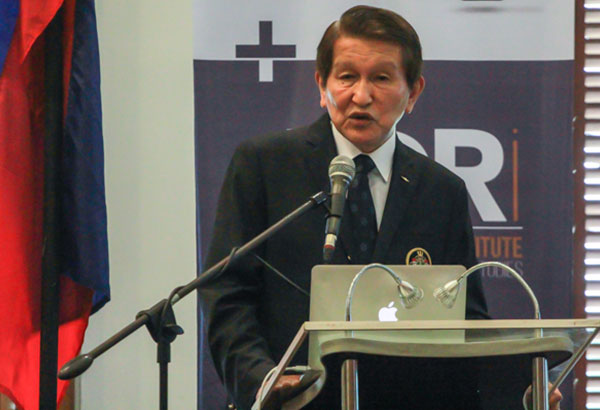 Former National Security Adviser Roilo Golez said that the Philippines should examine the model of Vietnam in pursuing its foreign policy. Philstar.com/Efigenio Toledo IV
Philippines can learn from Vietnam's foreign policy, says Golez
(philstar.com) - July 12, 2017 - 9:13am
MANILA, Philippines — The Philippines should adopt Vietnam's strategic acts on "diplomacy, security and defense" over the South China Sea dispute, said former national security adviser Roilo Golez on Wednesday.
The former national security adviser emphasized that the Philippines should examine the model of Vietnam in pursuing its foreign policy during the Stratbase ADR Institute forum, one year after the verdict of the Philippines' arbitration case against China on the maritime territorial dispute.
"The Philippines should learn from Vietnam on matters of diplomacy, security and defense. For example, strengthening ties with the US," Golez said.
On July 12 last year, the United Nations-backed Permanent Court of Arbitration based in The Hague, Netherlands had refuted China's nine-dash line claim over the disputed waters and ruled in favor of the Philippines' nautical claims in South China Sea.
However, China refused to recognize the arbitration ruling as it declares its legal justification and historic claim over the disputed waters.
Golez also pointed out Vietnam Prime Minister Nguyen Xuan Phuc's visit to US President Donald Trump during a White House meeting as both parties signed a multi-billion dollar deal last July.
He then mentioned the economic relationship established between Vietnam and India.
Vietnam has recently conducted a renewed joint development with India in the South China Sea and started an oil drill in a portion of the disputed waters.
"The Philippines can learn from Vietnam on how to pursue a truly independent foreign policy in the face of China's territorial aggression," Golez stated.
In 2014, Vietnam has continuously dismissed China's claim over a portion of the disputed South China Sea which was also claimed by Hanoi.
RELATED: Seen fishing on Panatag, Vietnam gains from Philippines' arbitral win
"What we are seeing here is a very skillful diplomatic offensive but at the same time beating up their defense capabilities, something that we can learn," Golez reiterated in his statement.
In 2013, the Aquino administration has filed a case with the arbitral tribunal against China's active islands construction in the West Philippine Sea.
The case was filed a year after China dominated the Scarborough Shoal situated in Zambales following a stalemate between Chinese troops and the Philippine Navy.
As the country strengthens its friendship with China under the Duterte administration, the Philippines momentarily set aside the arbitral ruling on the disputed waters in South China Sea.
RELATED: Philippines underscores 'neighborly relations' on Hague ruling anniversary