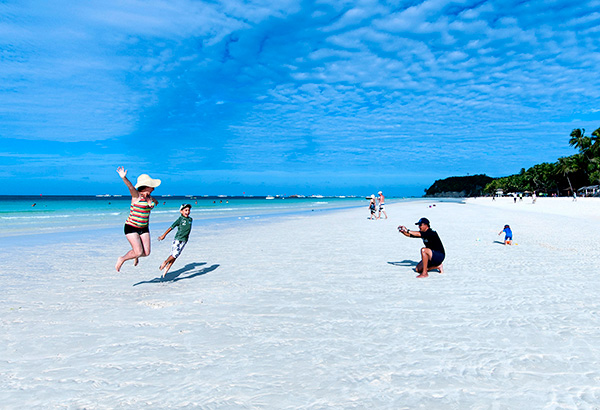 More than one half of the country's population or 60 million Filipinos visit local tourist destinations in the country every year, a Department of Tourism (DOT) official said yesterday. File


DOT: Philippines destinations visited by 60 M local tourists yearly
MANILA, Philippines - More than one half of the country's population or 60 million Filipinos visit local tourist destinations in the country every year, a Department of Tourism (DOT) official said yesterday.
DOT Assistant Secretary and spokesman Ricky Alegre told The STAR that bulk of the tourists are residents of major cities who would troop to their favorite spots during summer time and long holidays.
"The favorite destinations of tourists from Metro Manila and neighboring areas include beaches in Pagudpud windmills and San Dunes in Paoay in Ilocos Norte; Vigan in Ilocos Sur; Baguio, Sagada in Mountain Province; Subic, Zambales; Clark, Mount Pinatubo; the beaches in Batangas; Tagaytay City," he said.
Alegre said Pangasinan, La Union, Palawan, Boracay would also register a high number of local tourist arrivals every year.
He said the DOT was able to gather the number of local tourists from bookings in hotels and resorts submitted to the department yearly.
Alegre said the opening of major expressways – North Luzon Expressway (NLEX), South Luzon Expressway (SLEX) and the Tarlac-Pangasinan-La Union Expressway (TPLEX) – gave people especially in Luzon the opportunity to travel by land or road trips and enjoy nearby tourist spots.
"From Manila you can now reach Baguio in three to four hours," he said.
Alegre also said most local tourists schedule their travel in advance, availing themselves of various promos offered by airline companies or would rent or use their own vehicles.
He said, however, that the influx of local tourists to major destinations is seasonal and often reflected on the traffic condition in Metro Manila.
During Holy Week, the huge volume of vehicles in NLEX and SLEX is an indication that local tourists are on the road to their favorite tourist destinations, Alegre said.
"For this year, with the opening of new airport in Bagabag, Nueva Vizcaya and other parts of the country, we are expecting 70 million local tourist arrivals," Alegre said.
The airport in Bagabag opened last month and tours have been designed to bring tourists to the famous Banaue Rice Terraces of Ifugao and the scenic town of Sagada.