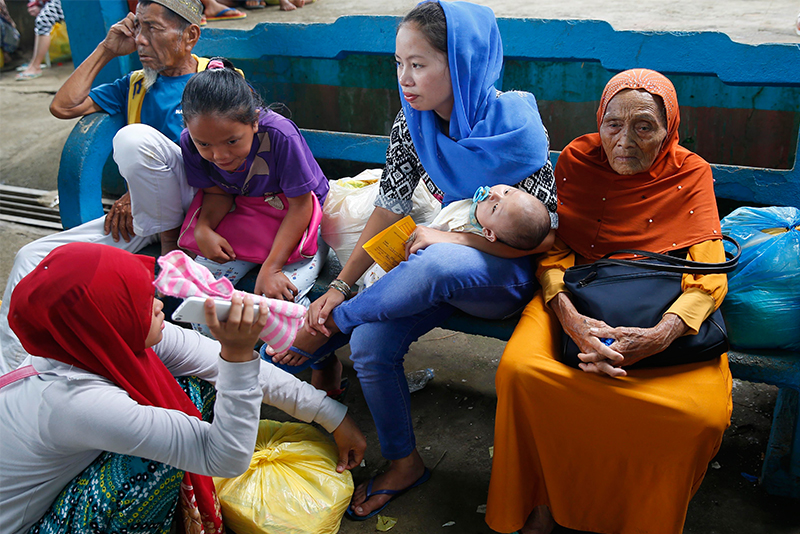 Displaced residents of Marawi city wait for their other relatives after queueing up to receive relief and food supplies at an evacuation center in Balo-i township, Lanao del Norte province, southern Philippines Wednesday, May 31, 2017. Tens of thousands of residents are now housed in different evacuation centers as Government troops fight with Muslim militants who laid siege in Marawi city Tuesday of last week. AP/Bullit Marquez
No foreign aid for Marawi, says government
MANILA, Philippines — A month into the siege in Marawi City that has killed hundreds, the Duterte administration has not received-- and will not ask-- for any foreign assistance, government officials said on Friday.
"We have not been asking them," Social Welfare Secretary Judy Taguiwalo said in a tweet.
Charmaine Aviquivil, foreign affairs executive director for public diplomacy, said "no foreign aid was coursed" through the Department of Foreign Affairs so far.
Budget Secretary Benjamin Diokno earlier said there are enough funds to handle the fighting in Marawi City, which began in May 23 after a failed mission by government troops to kill Abu Sayyaf leader Isnilon Hapilon.
RELATED: Philippines dismisses idea of anti-terror ops with US: 'We're quite capable'
Local terrorist group Maute, believed to be inspired by the Islamic State, eventually took over towns in Marawi, prompting President Rodrigo Duterte to place the entire Mindanao under martial law for 60 days.
While his declaration is being questioned before the Supreme Court, Taguiwalo said more than 3,400 families have been evacuated from seven regions in Mindanao.
More than 63,000 remains outside with their family members and Taguiwalo admitted reaching them for assistance has proven to be difficult.
"The problem is getting the aid to the home-based evacuees. They are spread out in hundreds of communities," she said in another tweet.
Humanitarian aid groups usually help by providing logistics to ensure aid is delivered to those who need them. For instance, the US helped transport aid to typhoon Yolanda victims in 2013.
US assistance limited to intel gathering
Currently, the US military is helping provide intelligence to their local counterparts, while Australia is also sending two military planes.
Nevertheless, Taguiwalo said P94.3 million in food and non-food items had so far been provided. Private donations have also been plenty.
The military said rehabilitation of affected areas is already being planned as they close in to the remaining stronghold of terrorists.
Despite this, two self-imposed deadline to end the armed conflict—first in June 2 and then in June 12, independence day—had not been met. Duterte also apologized to the people of Marawi for declaring martial law.
The Supreme Court is expected to come out with a decision on the petitions against martial law soon.
Should it rule the declaration constitutional, the military rule will end by July 23, a day before Duterte's second State of the Nation Address, unless he asks for extension and Congress grants it.