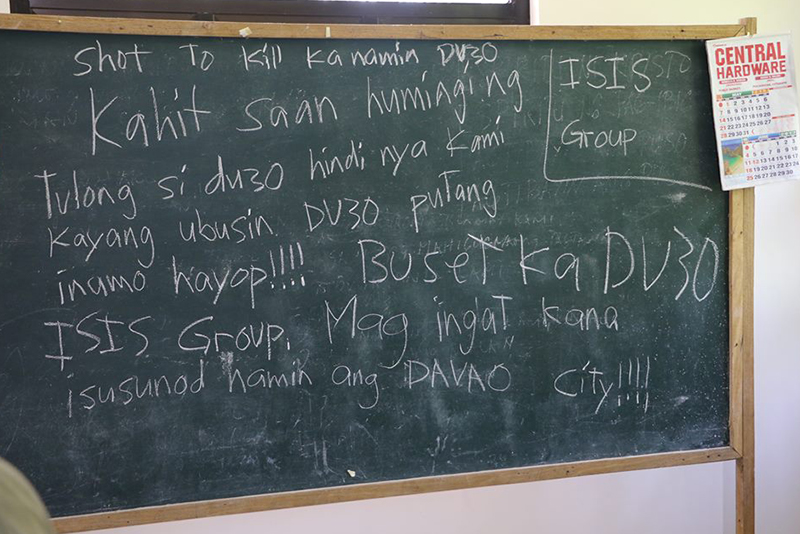 A message from Bangsamoro Islamic Freedom Fighters who plundered Barangay Malagakit in Pigcawayan, North Cotabato. STAR/John Unson
Alliance between Maute and BIFF possible, military says
MANILA, Philippines — The Philippine military on Friday admitted that a tactical alliance between two terror groups in Mindanao was possible as it downplayed threats that the next target of Islamist operations was President Rodrigo Duterte.
Brig. Gen. Gilbert Gapay, deputy commander of the military's Eastern Mindanao Command, said that a tactical alliance between the Maute terror group and the Bangsamoro Islamic Freedom Fighters was possible as the latter had augmented the forces of other local militant groups in the past.
BIFF militants snatched away five residents as they fled from government troops pursuing them after they raided a village in Pigcawayan, North Cotabato on Wednesday.
"As far as tactical alliance is concerned, that is very possible. And we have seen that in some operations wherein BIFF fighters are sending augmentation to not just to Maute but also to other local terrorist groups in the country," the military officer said in a media conference.
The possible alliance between the BIFF and the Islamist militants currently holding small pockets of Marawi could pose more problems to a Philippine government already struggling to end the almost one-month-old siege of the city.
Government security personnel are still facing difficulties flushing out the remaining fighters of Maute and Abu Sayyaf occupying several structures in at least four villages in Marawi City.
The conflict, which started on May 23 and prompted the placement of Mindanao under army rule, has already killed 369 individuals and forced most of the city's 200,000 residents to flee to neighboring towns and cities.
The siege of Marawi, the only Islamic city in the Philippines, has also alarmed neighboring Southeast Asian countries as the specter of a so-called Islamic State of Iraq and Syria province in the region loomed.
The Philippines, Malaysia and Indonesia have already committed to launching counterterror patrols in waters straddling their porous borders.
Military officials said that around 100 militants remain in a very small conflict area in the town. However, going to the city is still very dangerous as sniper bullets regularly whizz by and in some instances hit unsuspecting individuals.
BIFF threat vs Duterte 'desperate'
The military also downplayed a BIFF threat to target Duterte. It labeled the said pronouncement as "desperate."
It said that the attack in a Pigcawayan village was retaliatory and diversionary as BIFF fighters sustained heavy damage from the continuing military operations in their Maguindanao stronghold.
"That pronouncement of the BIFF is a desperate pronouncement because what happened in Pigcawayan recently was a retaliation for and somehow a diversionary attack resulting from the major setbacks they have been experiencing in their stronghold in Maguindanao," Gapay said.
Gapay said that although the BIFF posed a serious threat it was not as serious as that from Maute fighters, adding that military operations continue to target terror cells on the island of 22 million people.
READ: Inaccuracies seen in SolGen Calida's ISIS cells list
"It's not as serious as the one we're fighting in Marawi because BIFF is contained in their stronghold, and our troops there are doing very well in containing the BIFF," he said.
Gapay added: "BIFF, being a local terrorist group, is also the target of military operations. A dedicated unit is now tasked to address this threat. Just like our efforts against the Maute Group, we will sustain our operations against the BIFF until they are decimated."